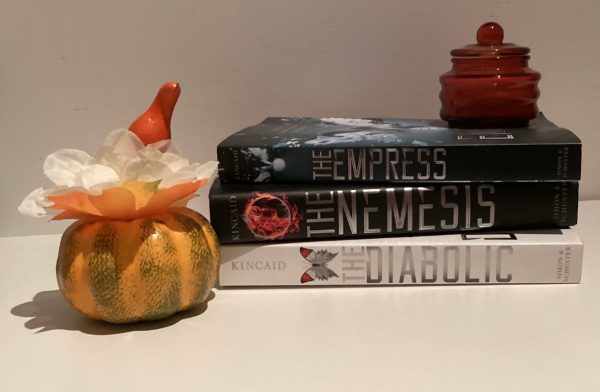 Hi Royals, and welcome (or welcome back) to my book review column. In this edition of book reviews, I will be looking at three different series that I have read recently. I hope you enjoy!
THE DIABOLIC by S.J. Kincaid
GENRES: Science Fiction, Romance, Dystopian
A Diabolic is three things: ruthless, powerful—and designed to kill for the person they have been created for. For the Diabolic Nemesis, that person is Sidonia Impreayan, heir to a position in the galactic senate. But when the power-hungry Emperor summons Sidonia to the Imperial Court as a hostage, there is only one way for Nemesis to protect Sidonia: she must become her.
The Diabolic is a series that follows Nemesis as she is forced into the world of the Imperial Court and must pretend to be someone she is not, but still remain herself. It follows her struggle to fight and live as herself as the Empire starts to fracture. Throughout this series, Nemesis must figure out what she is meant to do, who she can trust, and who she can learn to love. And, most importantly, Nemesis must find within herself the one thing she has been told she does not have—humanity.
This trilogy was one of many that I had lying around on my bookshelf. But once I picked it up, I could not put it down. The entire series was so captivating that I finished it in about a week. There are lots of reasons why I loved this series so much, but I think one of my favorite things was the setting. Set in the far future, all the characters in this story live on a collection of planets and spaceships spread over a massive galaxy. Kincaid put lots of detail into the environment with lots of description about the world itself and the culture of the world. Reading the book, I felt very immersed into it because of the detail. The book itself is also very intense and quick-moving, and with constant plot twists, I could not stop reading.
Something else that I liked was the relationships between characters. The author did a really good job making them feel very human by showing how fragile any relationship was. Many things that characters built with one another fell apart and were built back together over time. Based on the relationships built between characters, Kincaid really makes the leader feel what Nemesis does. I hated the villains and loved the heroes, which I think made this a really wonderful series.
A GOOD GIRL'S GUIDE TO MURDER by Holly Jackson
GENRES: Crime, Murder-Mystery, Thriller, Fiction
Everyone in Fairview knows the story. Five years ago, pretty and popular high school senior Andie Bell was murdered by her boyfriend, Sal Singh, who then killed himself. It was all anyone could talk about. And even now, five years later Pippa sees how the tragedy still haunts her town.
But she cannot shake the feeling that there was more to the story. She knew Sal when she was younger, and she cannot bring herself to believe that he could ever be a murderer. Now that she is's a senior herself, Pip decides to reopen the closed case for her final project. At first, she only intends to cast doubt on the original investigation, but as she digs deeper, she discovers a trail of dark secrets that may prove Sal's innocence. 
The Good Girl's Guide to Murder series follows Pip's investigation of many mysteries — all of which appear to be fine on the surface, but hold dark secrets underneath. Pip works alone, or with the help of friends, to uncover secrets and figure out the truth of stories that many people choose to ignore.
I was recommended this series by a friend, and I'm really glad I picked it up when they told me to read it. This series was really amazing to read, with the array of different plots and mysteries. The characterization throughout the series felt very real, especially for the main character, Pippa. She was a really amazing character to follow throughout the series, and the way that the author wrote about her made her feel very tangible. Pip felt very human, and how she was written was almost relatable in some ways.
In general, I think that I enjoyed the book so much because of character motives and how dramatic (and well written) the plot was. All the books were fast paced and had plot twists that I never saw coming, which was a really amazing feature. There was always so much going on that the plots never came to a standstill. Jackson also included really interesting formatting to keep the books going, like mixes of media types. 
"I liked that it had lots of suspense, and I also loved how the author made the main character very relatable." Said Sophomore Bruna Nascente-Tessari.
With so much different formatting and so much detail put into everything, I always loved how it felt like I was a part of the story.
CONTAGION by Erin Bowman
GENRES: Horror, Science Fiction, Zombies
"It got in. Most are dead. Don't set foot here again."
After receiving an urgent SOS call from a distant planet, a skeleton research crew is dispatched to investigate the situation. They are only there to complete a standard search-and-rescue mission, but when the crew arrives, they find the site abandoned, littered with abandoned weapons, rotting food…and dead bodies.
Something has clearly gone wrong here. As the crew tries to piece together what happened, they realize that some secrets are best left buried—and some monsters are all too return.
The Contagion series follows one storyline from multiple perspectives. When deadly disease threatens an entire galaxy by turning those infected into "zombies," there are very few who are up to stopping it—and that's exactly what the characters in the series plan to do. Throughout the series, you follow the characters through many trials and tribulations with one goal in mind: stop the virus.
After reading this series twice, I can definitely say that I really enjoyed it. The two books were very intense, which I found was really fitting, considering the plot and setting. Overall, it was super fast paced, but it worked in the series' favor, keeping both books interesting throughout the story. The story itself is told from the perspectives of multiple characters, including ones in different locations. I liked that the author included multiple points of view because it allowed me to get behind the scenes and see why all the characters did what they did. Other than that, the author put a lot of effort into describing the setting and the writing about the disease, which really added to the book. It added this sort of "creep factor" which kept suspense going throughout the entire series. Though the world sometimes felt generic due to its setting, the description of the zombies and virus kept it engaging.
My only complaint about the book was it didn't go into depth about all the characters' relationships. Too much ended up happening at times, so we don't get to see how the characters' different relationships affect their situation as much as I would've liked. But, overall the series is a really good read if you enjoy suspense and fast-paced actions. I ended up loving it, and I hope you do too!
With those three series, that concludes this month's book reviews! Thank you for tuning in and reading, I hope to see you all again next month.