Celebrating Indigenous Peoples' Day
"Those who do not learn history are doomed to repeat it." This quote rings true. That is why, when looking back on our country's history, it is important to be mindful of the perspective you observe it from. The story of Christopher Columbus and his "discovery" of the Americas has long been told in a way that praises him and overlooks the many devastating effects that the colonization of the Americas has had on Indigenous peoples. Some of these effects include that countless Indigenous Americans were forced into slavery, killed by European diseases, or massacred, resulting in the loss of about 90% of the Indigenous population. On top of that, their land was largely taken away from them and their cultures were suppressed.
"Columbus wasn't a hero, he was a colonizer," said former Los Angeles Chapter Representative of the International Indigenous Youth Council Bii Gallardo. "We glorify someone who described and participated in the rape and murder of our matriarchs and children; the backbones of our communities. In honoring Columbus Day, we glorify genocide."
Considering the brutality of Columbus and the other colonizers that followed in his footsteps, the holiday that celebrates him and his "accomplishments" has been quite controversial. Recent re-evaluation of the holiday led to the creation of Indigenous Peoples' Day in its place, to recognize and appreciate the people who inhabited this land long before Columbus.
Indigenous Peoples' Day, celebrated on the second Monday of October, was first established in Berkeley, California in 1992, coinciding with the 500th anniversary of Columbus' arrival in the Americas. In the many years since, it has been established in cities including Seattle, Los Angeles and Denver, and in states such as Minnesota, Alaska, Vermont and Oregon.
"Changing Columbus Day to Indigenous Peoples' Day makes me feel better knowing that people aren't celebrating a day about a person who colonized my ancestors," said freshman Aiden Gallardo. "It is important to make sure people know that Columbus didn't find America, it was us who were here first."
The holiday was first recognized here in Santa Barbara in 2018, in a resolution proposed to the City Council by local organizations Tribal Trust Foundation and Coastal Band of Chumash Indians. This year, Indigenous Peoples' Day was honored at Romero Canyon trail with an event called "Chumash Trails Day: Old Trails, New Soles." The event commenced with a brief program including a traditional Chumash blessing. Then, those in attendance took a hike on one of the many historic trails. The event was a way of recognizing and appreciating Chumash culture and the historical significance that the trails hold to the Chumash community.
Larger steps towards recognizing Indigenous Peoples' Day were made last Friday when President Biden became the first president of the United States to acknowledge Indigenous Peoples' Day as a holiday.
"For generations, Federal policies systematically sought to assimilate and displace Native people and eradicate Native cultures," President Biden wrote in the proclamation. "Today, we recognize Indigenous peoples' resilience and strength as well as the immeasurable positive impact that they have made on every aspect of American society."
While this proclamation was a huge step forward for many, there is still much work to be done.
"To just now recognize Columbus Day as Indigenous Peoples' Day on a national scale feels like a way overdue promise," said Bii Gallardo. "Indigenous communities deserve more than one day out of the year – these conversations about reconciliation and reparations should be on a daily basis."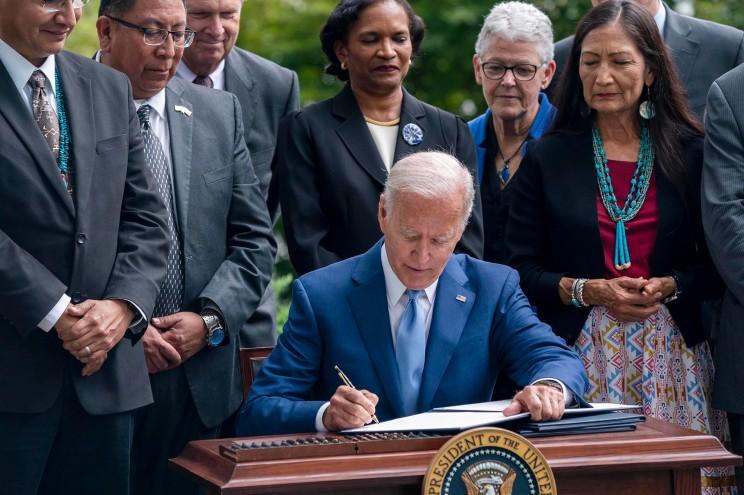 On campus, San Marcos' ASB is currently working on ways to honor the indigenous history of Santa Barbara at school. One proposed idea was inviting a Chumash band to come to the school to perform a land acknowledgement ceremony. Additionally, San Marcos' Ethnic Studies Club will be watching a documentary called "Lupita," about an indigenous activist in Mexico to honor both Indigenous Peoples' Day and Latinx Heritage Month.
"It is important that we celebrate or just acknowledge Indigenous Peoples' Day because it is part of what Santa Barbara is and what its history is," said San Marcos Ethnic Studies teacher Abel Gonzales. "In order to understand where we are right now, it is important to acknowledge the people who were here before us and how they shaped the land that we live on today."
As we celebrate this day, it is important to honor the indigenous cultures and communities that are present here in Santa Barbara. While acknowledging Indigenous Peoples' Day here and in other parts of the country is a step in the right direction, there is still much work to be done towards establishing Indigenous Peoples' Day as a federal holiday in the place of Columbus Day, and towards telling the story of America in a way that does not erase indigenous history.
"Today is not the day to celebrate Columbus day," said freshman Aiden Gallardo. "It is the day to realize that sometimes what you hear in history is not always right."
Donate to The King's Page
Your donation will support the student journalists of San Marcos High School. Your contribution will allow us to purchase equipment and cover our annual website hosting costs.
About the Writer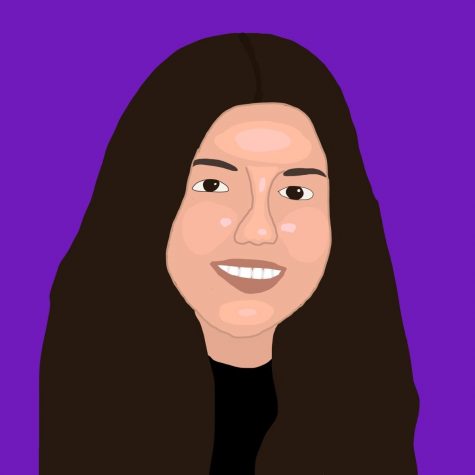 Noelle Cabrera, Feature Editor
Noelle is an 11th grader at San Marcos High School. This is her third year on The King's Page and she is now the Feature editor. Journalism is currently...