Over 30,000 Colorado residents were forced to evacuate as the Marshall fires blazed through Boulder County. In a matter of hours after it started to spread, the Marshall fire became the most destructive wildfire in Colorado history. A total of 6,000 acres have been burned, including an estimation of 1,000 homes, leaving Colorado in a major state of disaster. A residential loss of over 513 million dollars. Additionally, three people are reported to be missing and others have been assumed dead. Though these statistics are devastating, the state of California can sympathize with the victims of the Marshall Fires. We experience a wildfire season every year in Southern California, and know what it is like to recover from such a natural disaster as a community.
The fires began on December 30th, 2021. High winds had been predicted for the week, gusting up to 115 miles per hour. Dry land due to lack of rainfall served as fuel as the fire began to gain momentum. After smoke sightings were reported around 3:00 am on December 30th, it took first responders 15 minutes to locate the source of the smoke. By then, the winds had already caused the flames to grow to uncontrollable levels. The fires continued to burn throughout the next few days, destroying everything in their path, including over 1,000 buildings from homes, to businesses. Wildlife was destroyed too, with a total of 6,000 acres left in distress.
"The whole state of Colorado has been affected. I go to the University of Denver, and the air quality is bad." Said Ava Cannizarro, former Kings Page staff writer.
Colorado residents had no choice but to evacuate from the danger. Hundreds have been misplaced, their homes left in ruins. One Colorado resident, ranch owner Travis Busse, lost a major portion of his land to the fire.
"It's so heartbreaking to start from scratch, with no help," Busse expresses his frustration in receiving little money from insurance to recover the 240 acres of his land that burned. "I feel slapped in the face — it makes me not trust insurance companies at all. And the damage is ugly." Insurance gets complicated when natural disasters are involved. With so many people affected by the fires and such a variation of help needed, it is hard to legally accommodate everyone.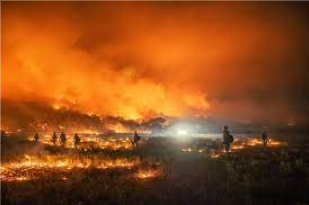 With FEMA (Federal Emergency Management Agency) unable to help all that have been affected, Colorado residents have seen a new light in community help and support. Especially from Coloradans who have been through wildfires before.
"So many people here in Boulder County, across the state, and from around the country have stepped up; and are helping in many ways, with their time and talent and their treasure," said Tracy Bernette, representative of the Louisville and Laffyette districts of Colorado. "Let go of your hesitations, and accept the help that is being offered right now. Think of it not as donations or charity, but as one big hug coming from people all over the world."
This type of community recovery in a time of natural disaster is something Santa Barbara is familiar with. We were faced with the Thomas Fires in 2017 and 2018, which left thousands of homes and buildings burned down, and over 200,000 acres of land. We also had to recover from the repercussions of the fires, including the disastrous mudslides in Montecito. During this period of recovery, we saw a strong sense of community togetherness as we helped each other pull through the damage that was done. Homes were opened up to each other, supplies were donated, and people worked together to rebuild. We are seeing a similar response as Colorado recovers from the Marshall fires.
If any other county can sympathize with wildfire victims, it is Santa Barbara. We have first hand experience of what it is like to deal with and recover from such a natural disaster. Through a combination of courageous efforts from first responders, and recent snowfall, the Marshall fires have been contained and put out. However, much damage has been done, and the affected communities have a long road of rebuilding ahead of them. Donation resources can be found on boulderoem.com, to directly help people who have been displaced by the Marshall fire.