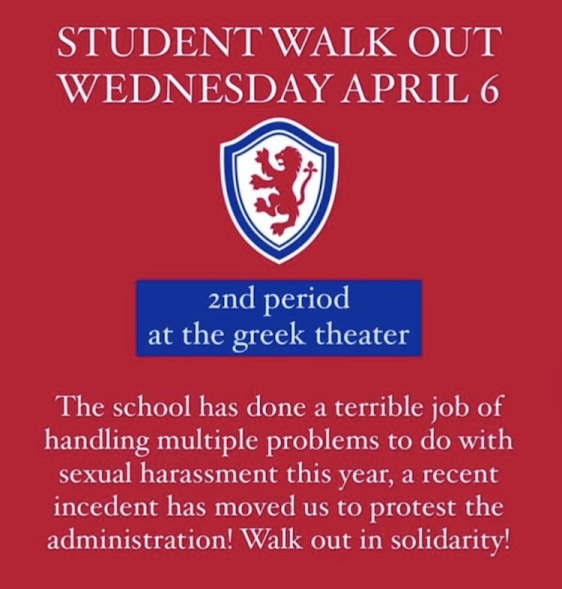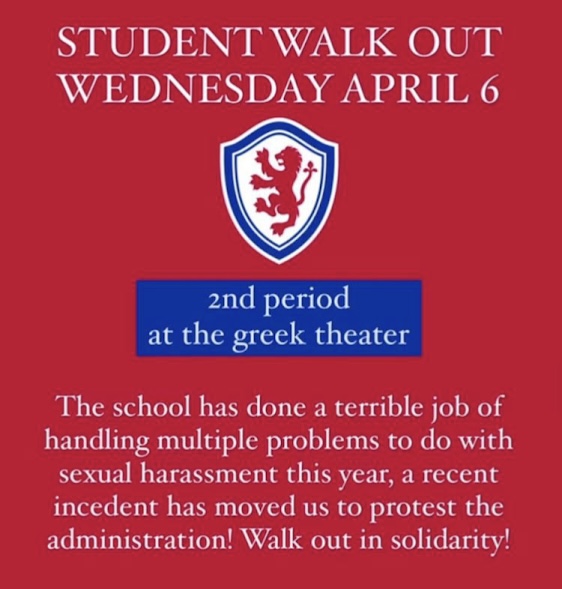 The incidents the post referred to are rightfully confidential, but according to the complaint, the school never stepped forward to address the increasing confusion and distrust students felt. Before the walk out took place, another post began circulating. The new post said, "After many informative meetings with the school administration we have gained awareness of the rules involved in our situation. We are hopeful about the measures being taken by the school and because of that I have decided not to participate in the walk-out this Wednesday. I am encouraging people to not walk-out to help us move forward in the best possible way. Thank you to the whole student community for your support."
While there was no evidence in the first post to hold up the serious accusations, there was also no evidence in the second post to ensure that the school's "measures" being taken were legitimate. However, on April 6, a group of about 20 students walked out despite the cancellation, proving that administration still has a ways to go in the eyes of its students. Some who walked out later posted on social media that they were disappointed in the turn out after the initial support of the student body.
Regardless of the call to action, then the cancellation, and a small walk out, interviews of San Marcos students further proved that some are exasperated by the pace and outcomes of these situations and need change if all students are to regard San Marcos as a safe place. Even if a case may be closed, that does not mean all who were involved are satisfied with the results.
Due to confidentiality the student will remain anonymous, yet they still shared their experience of dealing with alleged sexual assault. The San Marcos student courageously reported an alleged sexual assault incident and was frustrated with the process, the system, and the outcome. They reported that the steps they wanted the school to take to help them, were not followed through on.
"To the admin, office staff, and teachers, you are here to protect us and you should always believe the victim first. All of us deserve a voice, and that voice to be heard and respected. I'm extremely disappointed in this school."

A student at San Marcos High School
They were very brave in coming forward, and they represents many more students who are not in a safe space to speak out. Their disappointment in the school asks the question, who else feels this shortcoming? Is it only potential victims of sexual assault or the entire study body? A testimony from a San Marcos teacher showed that it goes beyond the students.
"As a teacher it saddens me how little we know about the happenings at our school. Most of the time teachers are unaware of this happening unless someone (another staff member/student) tells us. As a result, gossip grows and can harm the survivor."

Ms. Lorenzano a teacher at San Marcos High School
The quote seems to describe an endless cycle of hurt. A survivor of potential sexual assault goes to administration for help, possibly feels that they have not been taken seriously, only for gossip to come back around. While addressing rumors would be juvenile, the administration has a responsibility to be forward with the truth.
The administration ackowneledges that the truth cannot always be communicated clearly, however all victims, present and future, of sexual harassment and assault are looking to them for guidance and honesty. Students are demanding change and reminding the administration that they serve us and we are reliant on them for our safety.
After meeting with Dr. Alvarez, the message the administration wants to send is that they care about their students and when they seem skeptical it is not a demonstration of their distrust, but rather excluding any predetermined opinions, and focusing on the facts. Given the complicated nature of these situations and the need for confidentiality, at times the process can seem disheartening but the administration is on the side of the students.
"The administration team at SMHS honors and takes very seriously all reports that are made in regards to student safety. We are usually put in a tough position and are bound by confidentiality and student privacy laws on what we can and cannot share with the school and community, which means we are often unable to speak freely when rumors and misinformation are spread. We believe all survivors as well as our duty to fully, thoroughly, and meticulously investigate all reports that come to us. This includes filing reports with law enforcement and Child Welfare Services as part of the process. We also understand the frustration about our limits as a school bound by education code and hear the suggestion to try and better inform our staff and students. We also take all feedback seriously. For instance, we are planning to host a Title IX training session for all coaches and athletes next year to educate and empower all involved."

Dr. Alvarez, Assistant Principle
In the past few weeks, many students have begun to think about how to improve student and adult relationships on campus.
"Admin should focus on becoming trusted adults on campus for students to come to so they can handle instances of sexual assault in the most considerate and respectful way. Moreover, it's imperative that everyone in admin exercise patience and compassion; every student is different and requires different needs to be met, so we can't just apply a blueprint to dealing with sexual assault. When people come to admin, it means their concern has yet to be solved, and I think admin definitely can do a better job of communicating/expressing the care they have for solving students' problems."

Sophomore Kavya Suresh
San Marcos is not perfect, but we will be closer to that goal if we recognize our faults. A school that is broken but hides their flaws will take infinitely longer to progress then a school that is broken but acknowledges their weaknesses, asking for help and guaranteeing attempts at progress. These issues are difficult and can be painful, especially if you feel like you are going through it all alone. If you feel that you have been assaulted or harassed, contact a trusted adult, administration, or use the new Safe 2 Speak Up app. The national sexual assault hot line is 1-800-656-4673.