Universal Access Comes to SM
Did you know that in 2020, only 51% of latino students and 59% of black students in our district were enrolled in advanced courses? In comparison, 86% of white and asian students were in advanced courses. That is a difference of over 20 percentage points. This apparent racial disparity between college preparatory (cp) and more advanced classes is nothing new to our school district, or to our country. For years, such statistics have proven that black and latino students are continually underserved and underrepresented when it comes to challenging classes. This year, the school district has finally taken action to change that.
In January of 2021, the Santa Barbara Unified School Board voted to pass the Board Equity Resolution, which solidified their commitment to making schools more equitable. Since then, a plan to combine college preparatory and honors classes in both junior highs and high schools has been developed, referred to as "universal access." In this multi-step process, students will be in "co-seated" classes, where self-selected honors and college preparatory students are taught in the same classroom by the same teacher, but will be in different rosters depending on which level course they selected and will be taught slightly different material. The hope is that having college preparatory students in the same class with honors students will expose them to honors level work and give them the opportunity to earn honors credit. This would act as a solution for the underrepresentation of students of color in honors classes.
This new system was piloted last year at Dos Pueblos high school in the English department. This year, the system has expanded to 7th, 9th and 10th grade English classes district-wide, 7th grade science and math at La Colina, with the exception of compaction math, and 7th and 8th grade social studies at La Cumbre Jr. High. Next school year, 7th, 8th, 9th and 10th graders across the district will automatically be placed in the same English class without having to self-select honors or college preparatory, and they will all be on the same roster. By the 2024-2025 school year, students will register for courses without honors or college preparatory designation in core subjects. In those classes, all students will be taught the same material and will be able to earn honors credit by consistently exceeding grade-level standards and by earning a C- or above in the class.
The transition to universal access this year seems to be going well at San Marcos.
For some students in co-seated classes, there seems to be little difference at all.
"Being in a combined class has been good, it hasn't been much different than other years," said San Marcos freshman Rumi Jahangir-Arshad, who is currently in a co-seated English class. "I think that students that are in college prep are capable of managing honors level work and it's a good experience for them to be exposed to that level."
"I think that the new system is working because a lot of people in class have been participating more to match the level of other students," said another San Marcos freshman Gianna Hernandez. "I thought it was all one class, honestly. I didn't know it was mixed."
This transition has also been a bit of a change for teachers, but nothing too drastic either.
"The benefits include reminding students that there isn't a difference in what is taught at an honors vs. a college prep class," said San Marcos English 10 teacher Sean King. "As a teacher employed by the district and the state of California, it is my job to teach the 10th grade state standards to all. There aren't separate standards for honors. So when all are in the same room, the task becomes: 'how can I support students who need it and how do I extend and encourage further growth for those who need that.' That has always been my job and I don't see that changing in this new system."
Since it has been put in place, universal access has received significant backlash through public comment and social media from some parents who believe that combining the classes will take away from the learning experience of honors students, and will lower the rigor of their course.
"My daughter participated in a co-seated class this year as an honors student, and I can inform you that there is no standard set by the teacher and the work did not challenge her," said an SB Unified parent during public comment at the April 12th school board meeting. "There was no differentiation between college prep vs. honors work. How does a college prep student know when they are ready for honors work, and how does an honors student stay motivated to learn in this situation?"
Despite this backlash, the school board has stood firm in their decision.
"It is essential that we empower all students to remember that their background, their economic status, their ethnicity, their race, their gender, their language, their ability, and any other part of their identity does not limit them from achieving success and from being the incredible student that they want to be," said student board member and San Marcos junior Kavya Suresh. "We are all so creative and unique and I truly believe that leveling up universal access is an essential and transformational way for us to demonstrate the incredibly unique and special student body that we have in this district."
The new system for universal access is still in its early stages, so its efficacy will be determined with time, but this year's transition to co-seated English 9 and 10 classes at San Marcos seems to be going smoothly. If all goes according to plan, we will have fully integrated classes by the 2024-2025 school year, which will hopefully serve its purpose in making schools more equitable for all students.
Donate to The King's Page
Your donation will support the student journalists of San Marcos High School. Your contribution will allow us to purchase equipment and cover our annual website hosting costs.
About the Contributor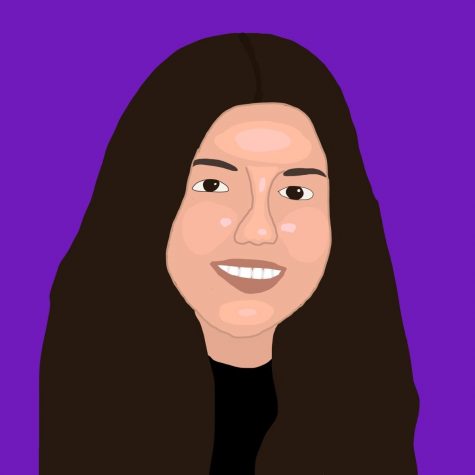 Noelle Cabrera, Feature Editor
Noelle is an 11th grader at San Marcos High School. This is her third year on The King's Page and she is now the Feature editor. Journalism is currently...