The fentanyl crisis is a deadly epidemic, and it is everywhere. So far this year in Santa Barbara County, there have been over 140 overdose deaths, most of which are related to fentanyl; this is on track to eclipse 180 overdose deaths in 2022, up significantly from 133 in 2021 and another 114 in 2020. Fentanyl-involved deaths in Santa Barbara County have increased 81% since 2019. We must take every opportunity to bring awareness and educate the community.
"When I was working as an EMT, that was really where I got my first exposure to drug use," said Santa Barbara Sheriff's Department Narcotics Detective James Furber, who works in the Special Investigations Bureau. "Fentanyl wasn't as big of a problem back then, but it did accentuate how the times have changed. In three years when I was working as a medic, I administered Narcan only three times, whereas now they are doing it weekly." Narcan, the brand name for the generic drug Naloxone, is used in the field to quickly counteract opioid overdoses and save lives.
Fentanyl is the deadliest drug on the market.
While not giving exact statistics, Detective Furber stated thtat, in his experience, "the majority, if not almost all, drug-related overdose deaths are fentanyl or opioid related, especially now more than ever, whether that was intentional fentanyl ingestion or unintentional."
He explained how this crisis has directly affected the youth in our community through the prevalence of fake prescription pills. It is dangerous because most teenagers do not know what they are really taking. If they do not come from a real pharmacy, pills that appear to be Adderall, Xanax, or Oxycodone could be laced with a deadly dose of fentanyl. According to Detective Furber, just about 2 mg of fentanyl (roughly five grains of salt) is enough to kill a full-grown adult.
On its website, the Drug Enforcement Administration (DEA) warns of "rainbow fentanyl," brightly colored pills and powder that look like candy, used by drug traffickers to target kids and young adults.
People in our community are affected by this every day.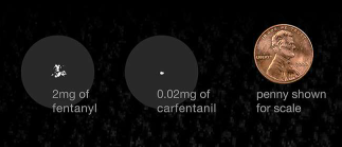 "We have many resources to help with substance use or abuse," said San Marcos counselor Lauren Davis. "If a student is willing to accept help, they should start by talking with their school counselor. We can direct them to the appropriate resources."
In our community, there are several organizations which can support students either preventatively or with treatment.
"Youthwell offers an incredible resource directory which lists 26 organizations that specifically address substance use."
So, if you are struggling or know someone who is, please reach out. If you take anything from this article, it is that one pill can kill.