Las Personas Mayores Están Estresadas
Es esa época del año otra vez. ¡Las personas mayores se están tirando de los pelos ya que vencen muchas solicitudes este mes! Todos los años, la clase de último año siente el mismo estrés y ansiedad al llenar y enviar sus solicitudes para la universidad. La calidad y cantidad de solicitantes universitarios ha aumentado cada año y seguirá aumentando. Cuando nuestros padres solicitaron ingreso a la universidad, estarían locos por tener más de cinco solicitudes en su plato y ahora estaríamos locos por tener solo cinco. Sin mencionar que la mayoría de las escuelas son a ciegas o son opcionales, lo que cambió completamente el juego de las aplicaciones, de manera beneficiosa para la mayoría. Además del estrés del proceso de solicitud en sí, muchos estudiantes también se preocupan por la ayuda financiera y las becas. ¡Las personas mayores no se olviden de solicitar la Fundación de Becas de Santa Bárbara, ya que pueden obtener varios miles de dólares en becas cada año! Nuestras vidas consisten en horas de estirar nuestras actividades extracurriculares y editar hasta el final de los tiempos.
Las tasas de aceptación universitaria siguen bajando y es más competitivo que nunca. De acuerdo con las Estrategias de Admisión a la Universidad, ahora más de ⅔ de los graduados de secundaria están solicitando ingreso a universidades cuando hace solo 4 años era menos de la mitad. Hablando desde mi propia experiencia, las solicitudes para la universidad son un momento extremadamente estresante. Especialmente para los estudiantes que no pueden pagar $70 por hora de consejeros universitarios.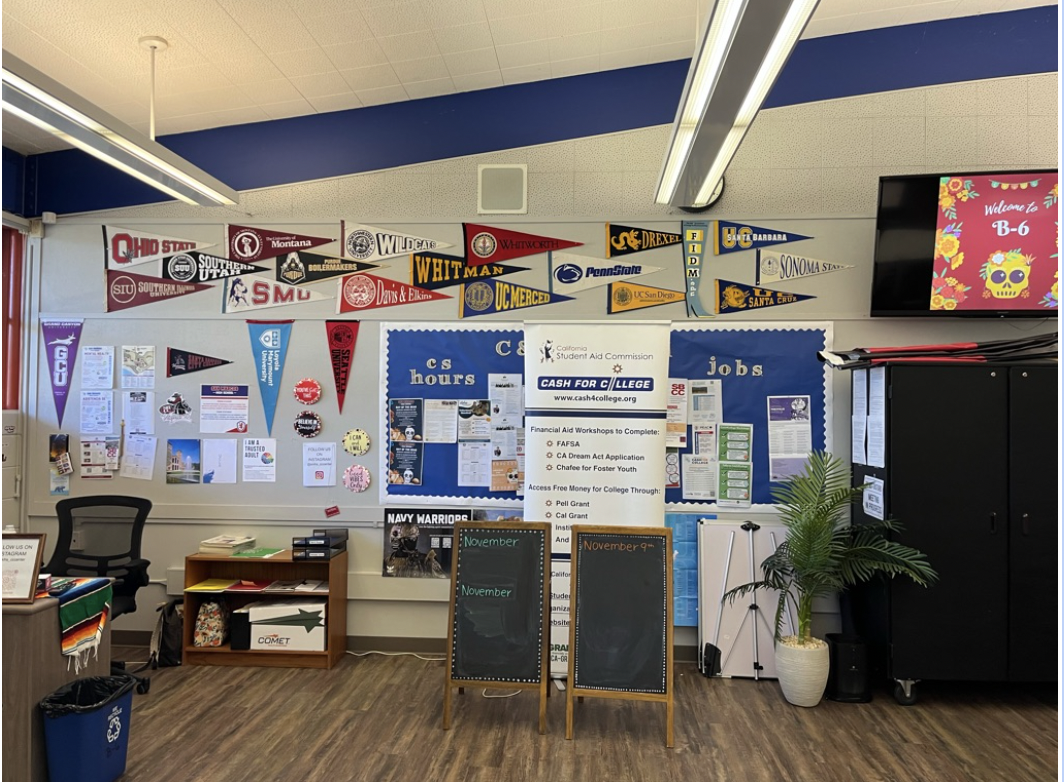 La estudiante de último año, Michelle Arellanes, dijo que "las aplicaciones universitarias son un momento realmente estresante, pero participar en misiones académicas, que ayuda a los estudiantes de bajos ingresos y con poca representación a prepararse para la universidad, ha sido de gran ayuda".
Si las personas mayores necesitan más ayuda, el centro universitario y profesional está abierto a todos los estudiantes para preguntas y ayuda adicional. La Sra. Gonzales, la consejera universitaria y profesional de nuestra escuela les dice a los estudiantes de último año: "No lo dejen para el último minuto. No vale la pena posponer las solicitudes para la universidad. Haz todo antes de las vacaciones de Acción de Gracias para que puedas disfrutar de estas vacaciones".
La ansiedad y el estrés durante este tiempo pueden ser abrumadores, pero es importante recordar que, donde sea que termines, es donde debes estar. Seniors, encontrarán un camino en cualquier cosa que hagan o en la universidad a la que asistan.
Donate to The King's Page
Your donation will support the student journalists of San Marcos High School. Your contribution will allow us to purchase equipment and cover our annual website hosting costs.