Anti-Semitism in Schools
In recent months, there has been a string of anti-semitic incidents that have occurred within our school district and our community.
The first incident within our school district was reported on February 1st, when an anti-semitic symbol was found drawn on a flagpole at Dos Pueblos High School. The symbol has since been removed and the district is now conducting an investigation.
"While we have not determined the perpetrator, Santa Barbara Unified condemns this hateful act in the strongest possible terms," Superintendent Maldonado said in a message to SBUSD parents.
Shortly after this, on Friday, February 3rd, SBUSD parents were informed that anti-semitic and other hate symbols were found at Goleta Valley Junior High, drawn in dictionaries and on a classroom wall. In response to these discoveries, Goleta Valley teachers were instructed to address the situation in their classes.
On February 7th, Principal Holdren sent out a ParentSquare message to inform parents that anti-semitic symbols were found drawn on the San Marcos campus. According to the report, one of the San Marcos incidents occurred prior to winter break, the other more recently.
"This cannot and must not continue," said Principal Holdren in the ParentSquare. "We must condemn all hateful and violent acts in our schools, community, and world."
Every 2nd period teacher at San Marcos was instructed to inform their students of the incidents and to discuss the gravity of the situation.
"I also ask that every 2nd period teacher address their classes today, as a means of educating students about the history of hate symbols and their nefarious impact on people of all backgrounds," Principal Holdren said in his email to San Marcos teachers.
In both the message from Principal Holdren and the one from Superintendent Maldonado, the Resolution on Respectful Treatment of All Persons was referenced, which was passed by the Santa Barbara Unified Board of Trustees in November of 2022.
"The resolution calls for 'students, employees, parents, and community members in both schools and offices treat all persons equally and respectfully and refrain from the willful or negligent use of slurs against any person on the basis of race, language spoken, color, sex, religion, disability, national origin, immigration status, age, gender, sexual orientation, or political belief,'" Superintendent Maldonado said in her message.
The message states that Santa Barbara Unified Staff are in the process of anti-bias and anti-racist training, the results of the Insight Racial Climate Survey are in progress, and the district will be launching the "I U We Stand" campaign to combat these hate incidents.
All of the incidents reported within the school district so far have involved people drawing swastikas on school property. The swastika symbol was used to represent Hitler and the Nazis during their attempt to eliminate the Jewish population during World War II, now referred to as the Holocaust. During this time, over six million Jewish people were murdered, one of the largest genocides recorded. Some of the worst atrocities in our world's history were committed during this time. Millions of Jews were forced into concentration camps, where they were either murdered upon arrival or worked to death. Many more died before they even reached the camps.
"Anti-semitism can grow from drawing symbols to something genuinely life threatening, which is a really big concern my parents have had," said an anonymous San Marcos student. "And I've always known that anti-semitism existed, maybe I was too young to notice, but it never felt this serious of an issue growing up. I just think it's really frustrating that there's constantly a hate towards people like me even in a place like Santa Barbara which is supposed to be fairly accepting, but I guess that has been proven untrue."
Santa Barbara Unified schools have not been the only schools experiencing anti-semitism of this nature. UCSB has also seen multiple anti-semitic incidents in the past few months.
One reported incident was that someone had written the saying "From the river to the sea" on a chalkboard in an Israeli Politics class at UCSB. This phrase refers to the total elimination of Israel, a sacred place for Jewish people, from the Jordan River to the Mediterranean Sea.
On January 31, hundreds of anti-semitic flyers were found distributed to businesses in Isla Vista. The flyers contained ideas that related Jewish people to homophobia, racism, and pedophilia, and that denied the Holocaust.
Another similar incident occurred on the first day of Hanukkah in December of 2022, when hundreds of anti-semitic flyers were distributed to homes on the Mesa. The flyers blamed Jewish people for causing the COVID-19 pandemic, among other things. According to the Santa Barbara Independent, authorities believe that this was an event planned out by a "small nationally based anti-Semitic fringe group." This group was responsible for over 350 anti-semitic acts across the country in 2022.
The Counseling & Psychological Services department at UCSB, as well as local Jewish student organizations and the Santa Barbara Sheriff's Department have since released statements condemning these anti-semitic acts.
These incidents come just shortly after Holocaust Remembrance Day, which occurred on January 27th. This day is dedicated to honoring and remembering the millions of victims of the Holocaust.
While anti-semitism is nothing new to our country or our world, hate crimes targeting Jewish people have certainly been on the rise. A report by the Anti-Defamation League showed that there were 2,717 anti-semitic hate crimes reported in 2021, which is a 34% increase from the year before.
There are plenty of theories for why anti-semitism has been on the rise. Some believe that it could be because of rapper and celebrity Ye, who has become an outspoken anti-semite over the past year, or because people have become emboldened after former President Donald Trump's dinner with a Holocaust denier. However, anti-semitism was on the rise even before. One idea is that anti-semitism can stem from lack of education on topics such as the Holocaust and the history behind the swastika symbol.
"Holocaust education is important for all of us precisely because of the recent anti-Semitic incidents in Santa Barbara," said San Marcos World History teacher, Melanie Jacobson. "Shining a light on our capacity to harm one another through symbols, speech, and violence through history not only heightens awareness of a real issue, but can increase empathy and help us recognize the patterns before small incidents become dangerous movements."
As we move forward, we will see if the action the school district has taken against these anti-semitic acts will be enough, or if further action will be required. And, now more than ever, it is important to educate yourself and others about the history behind the swastika symbol, and to report all hateful and discriminatory acts you witness on the Safe2Speakup app. By doing so, you can prevent further acts of anti-semitism, and help make our campus a safer and more accepting place to all of our students.
Donate to The King's Page
Your donation will support the student journalists of San Marcos High School. Your contribution will allow us to purchase equipment and cover our annual website hosting costs.
About the Contributor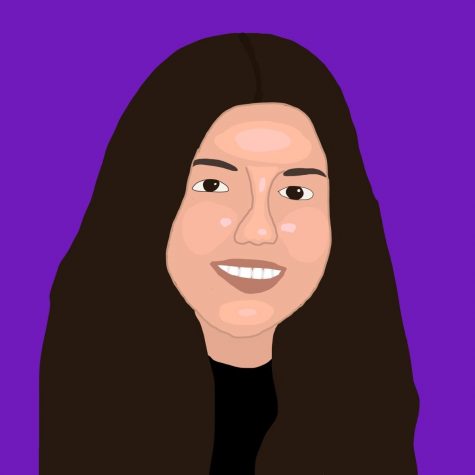 Noelle Cabrera, Feature Editor
Noelle is an 11th grader at San Marcos High School. This is her third year on The King's Page and she is now the Feature editor. Journalism is currently...