As summer season comes to a close and we begin to settle into a new school year, it is crucial to remember the importance of keeping sustainability in mind. Here are three tips on how to start your school year off green!
1. Remember Your Three Rs: Reduce, Reuse, Recycle
The base and guiding principle to all attempts at an eco-friendly approach would be to refer to the three Rs. Keeping these sustainable, waste-reduction strategies in mind creates a strong foundation in your attempt at an Earth-Friendly selection of back-to-school habits. You can begin your effort at this premise as you search for school supplies. To reduce the amount of waste you produce, take note of what possible school supplies you already have at home that you could reuse as you receive your list of necessities from your teachers. And while you are filing through your leftover supplies in your home, you can recycle or donate any extras to friends or even your school for those in need. 
2. Shop for a Green Wardrobe
For some, the start of every school year also causes a craving for a whole new wardrobe. To achieve this while prioritizing sustainability, you can utilize the abundance of second-hand shopping options available. There are many options to consider whether it be in person consignment and thrift stores or online platforms. Kiala Haas, a senior at San Marcos High School and a frequent thrifter, shared that "Along with the sustainable benefits, you can also find unique and affordable pieces." Like mentioned, while being Earth-friendly, second-hand shopping is also a budget-friendly option that still provides you with that stylish new wardrobe you want.
3. Pack a Waste-Free Lunch
The final tip on how you can achieve a sustainable return to school is very simple, pack a waste-free lunch! According to the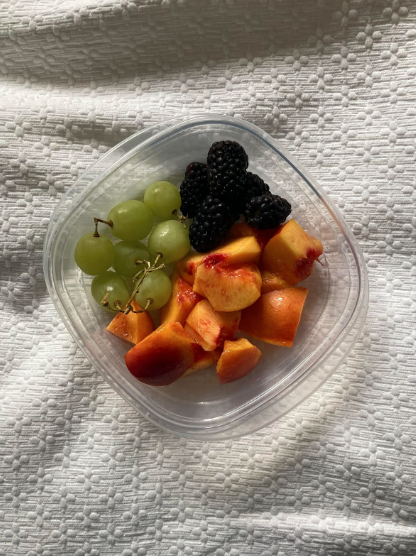 World Wildlife Fund, as of 2022, U.S. schools are estimated to create up to 530,000 tons of waste annually. Whether it be school lunch or something you pack for yourself, it is important to remember the importance of thinking green. One affordable way to start is to replace your single-use plastic bags and containers with long-lasting alternatives that will ultimately save both your
money and the environment. Another sustainable alternative when packing your lunch is to replace the individual serving snacks with bulk purchases that you can divide throughout your week. Though seemingly convenient, buying in bulk is once again not only the green option, but also the cheaper option. 
Simple practices can go a long way in helping reduce waste and protecting the environment. Remember to think green as we continue into our new school year!