As the sun set on Sandpiper Golf Course, the San Marcos' Varsity Girls Golf team earned their title as Channel League Champions. The team, small in numbers yet strong in character, successfully finished their season undefeated. This is the first time in San Marcos history that Girls Golf has ever been undefeated.
Their last League match was on their home turf, Sandpiper, against Buena High School on October 10, which the Royals won 245-260. (In high school golf, six players play and the five lowest scores are summed to get the team total.) As much as golf is an individual sport, it took consistent team effort to secure their title as champions. 
"It was very exciting to win our final match against Buena for the league title, it came down to the final pairings which added to the anticipation," said senior Sophia Torrey. "It was a really fun and enjoyable season with fantastic teammates. " 
With a final win under their belt, the Girls Golf team finished their season 13-0 overall and 7-0 in Channel League. A record. 
"Going undefeated for the first time in school history was quite an accomplishment," said Coach Sarah Ashton. "I'm really proud of these girls for always rising to the challenge for every match. They are great teammates as well as opponents."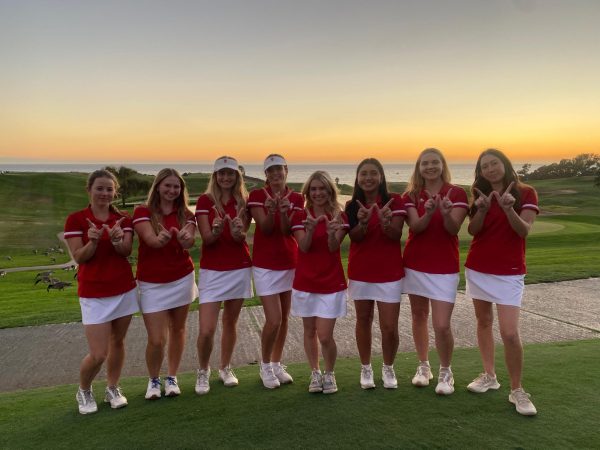 The Girls Golf team has been practicing every week since August, spending countless hours working on their swings, patience, and forming the bond of a well-balanced team. Their commitment has paid off seeing as they also beat Dos Pueblos for the third time in school history and by the largest margin (SM 228 – DP 259). Every member on the team made great improvements individually; each returning player (seniors Riley O'Brien, Sophia Torrey, Evelina Erickson and juniors Campbell Thayer, Talia Cummings, and Sadi Adams) shot below 50 multiple times, while the two new members of the team (freshmen Mia Rocha and Chloe Bellamy) made impressive progress in score and knowledge of the game as well. 
On October 16, six out of eight members traveled to Soule Park in Ojai to qualify for League Individuals. While no one made the 4-person cut, the majority were in the top 10 out of 32 players who attended. 
With the title as Channel League Champions, Girls Golf will be competing in the Division 3 CIF Championship tournament on October 30 against 20 other teams from schools in SoCal. They are heading down to Riverside to play at Jurupa Hills, where hopefully their winning streak continues.