San Marcos Boys Water Polo defeated Dos Pueblos and secured the title as Division 2 CIF-Southern Section Champions at their game on Saturday, November 11, 2023. This is the first time they have won CIF since 1994. Held at Dos Pueblos, the stands were packed and crowded with enthusiastic alumni, teachers, and students, representing the large local water polo community. Surprisingly some students even came in full body paint to cheer on the athletes. 
"Shoutout to Reece Stewart for an incredible athletic performance and for being the heart of the team," said utility attacker senior Nic Prentice. Likewise, the players on the Boy Water Polo team surprised the crowd with buzz-cuts. Prentice said that shaving their heads showed, "how much we cared for each other and our commitment to the program." 
The game was close in the first and second quarters with DP 5 and SM 4.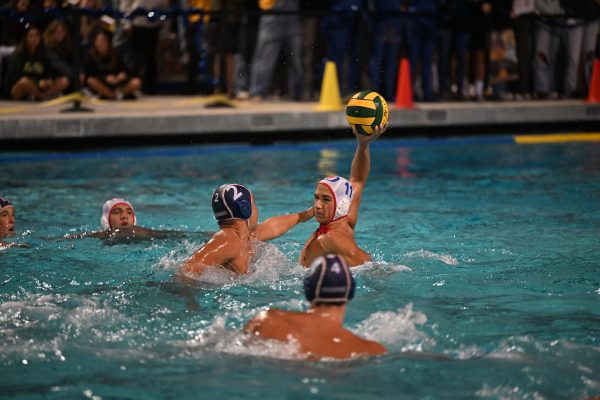 "After the first half, we had a team meeting and we decided to slow it down and focus on our defense, and great defense always leads to great offense," said center defender sophomore Will "Big Willy" Stuart. He scored three goals, the most out of any player in the game. Prentice and Mateo Obando followed suit with scoring two goals each. 
During the second half, San Marcos reset and dominated defense, leading to a strong offense. The momentum from scoring a few goals and the energizing, sold-out crowd also contributed to the players success. DP was only able to score one more goal while SM scored five more goals, winning the championship 9-6. This victory makes their total record 25-9 overall and means they move up to Division 1 next year. 
"I'm proud of the boys; they worked hard all season and came together as a team to finish strong. It's a long, hard road to get to the finals, but our team put in the work and it paid off," said Coach Peera. "I'm grateful DP hosted the final game as I think it was a great opportunity for the entire SB community to come together and cheer on both teams."
"It feels very special [to have won the championship]. I play club with a lot of the Dos Pueblos team, and I have a lot of respect for all of the players," said Stuart. 
With this win, the San Marcos Boys Water Polo team plays in the State CIF tournament tomorrow against Classical Academy at 5:00 pm in our home pool. People are encouraged to show up and support. Go Royals!