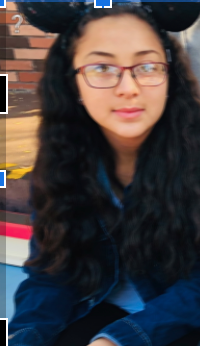 How old are you? I am 14 years old.
What are your classes? I have choir class, English Ethnic Studies, Health class, and French class.
What is your favorite class? My favorite class so far is English Ethnic Studies.
Why is English Ehnic Studies your favorite class? I have learned many different terms that help explain different topics such as racism, oppression, and discrimination.. Overall, English ethnic studies has helped me understand myself, embrace my culture, and also it has helped me to know that I'm not the only one going through these things.
What is your most difficult class? My most difficult class is French class.
Are you playing any sports on campus or in theater, band, chorus…etc.? Yes, I am currently taking choir class, first period.
What time do you wake up for your first period zoom? I wake up at 8:30 a.m.
What do you do after school? After school, I like to take my dogs out for a walk, then I will normally do homework for about 1 hour and ½; afterwards, I do chores and if I have time left over before or after dinner I play some video games.
What are you most excited about high school? I am excited to be able to take some classes that I find interesting, such as law and society, computer science and more.
What is your favorite part about San Marcos? My favorite part is that the teachers I have had so far have been wonderful, they take time to connect with their students while still teaching us. What will you be doing for the holidays? For the holidays, my family is planning on meeting up at my house to have a family get together.
---