It seems like every year Valentine's day seems to sneak up on us. For some people this holiday is long awaited, these are the type of people who most likely have plans with friends or significant others. For the rest of us Valentine's day is a day of self love, eating way too much candy, and of course rom-coms that make us feel a little less lonely. I think that romantic comedies are truly the best type of movie for any occasion. If you are one of those people with no plans on Valentine's day don't worry, I am here to help you by giving you some of the top rom-coms to watch.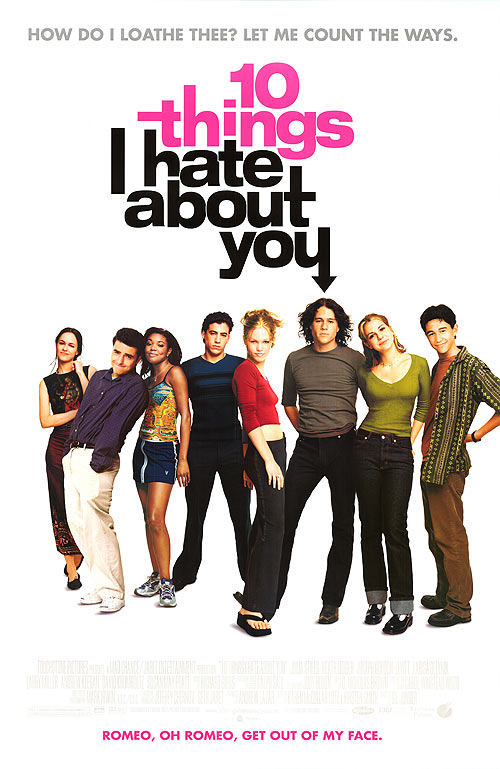 One of my favorite movies of all time that also happens to be a rom-com is "10 things I hate about you" starring Julia Stiles playing Kat Stratford, and Heath Ledger playing Patrick Verona. This movie is about a young girl named Kat Stratford who is a very angsty, athletic, smart girl unlike her younger sister Bianca (Larisa Oleynik) who is the talk of the school. At home there are new rules demanding that Bianca cannot date until Kat does so. Because of this a young boy Cameron (Joseph Gordon-Levitt) who has a crush on Bianca pulls some strings to find Kat a boy. This boy has to be the same as Kat, and he needs to not be scared of her. They come across Patrick Verona who is a outcast, he agrees to go on this adventure. You will have to watch this movie to see if they end up together in the end or not. Trust me this movie is totally worth the time. Not only is it hilarious, but it also is so heartwarming at the same time . Also, not to mention the fashion in this movie is amazing. Sophomore Gabe Munoz said "This movie is one of my favorite movies, it really never gets old, and it's perfect for Valentine's day." He definitely isn't wrong about that one it's very popular amongst highschool students.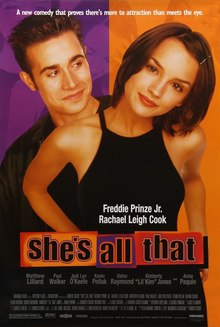 Another sort of similar movie I recommend is "She's all that" featuring Rachel Leigh Cook as Laney Boggs, and Freddie Prince Jr. as Zack Siler. This movie has the stereotypical highschool feel to it, and it's a classic 90's movie. Laney is the "nerd" girl who no one knows about around the school, while Zack is the school's golden boy. He experiences heart break with his very popular cheerleader girlfriend and faces a challenge. His friend Dean Sampson (Paul Walker) and him make a deal stating that Zack has 6 weeks to pick the girl with the least amount of chance at being popular and turn her into a prom queen. The movie goes through the events it takes to try to get Laney there. The movie is very engaging, super cute, and fun. " I really enjoyed watching this movie, its such a classic cliche high school movie. Everything about it is so amazing." says Junior Julia Parks.
With these new movies on your watchlist for Valentine's day you are definitely going to have an amazing night. You no longer need to worry about not doing anything, because in reality having no plans is completely normal. Both of these 90's classics are timeless, I watch them with my family from time to time, and I am excited to pass them on to fellow Royals. Have an amazing Valentine's day and don't forget to stock up on candy and snacks!