Mr. Goettler's Guide to Sustainability
About Mr. Goettler
With both Spring and Earth Day approaching in the next month, many are reminded of the environmental impacts of their lifestyles. First celebrated on April 22, 1970, Earth day has been a chance for people to bring awareness to the environmental issues around us. At San Marcos, our link to sustainability is through the AP Environmental Science and Horticulture classes taught by Mr Goettler. Starting in high school, Mr. Goettler began working towards living a sustainable lifestyle, especially because of small influences around him such as his parents. Since then, he has also inspired many of the students at San Marcos to reduce their carbon footprint and to be more environmentally conscious. 
When asked about what sustainability meant to him, Mr. Goettler said, "It means not being wasteful so that future generations have what we have access to. When we're resourceful, we're being fair to future generations, and not taking more than our share."
If your response to this is, "what does it matter?" or "how can I help?" Mr. Goettler has some answers for you!
Tip #1- Reduce Carbon Emissions from Transportation 
When speaking with him about sustainability, Mr. Goettler emphasized the effect that transportation has on the environment. 
According to EPA.gov, around 4.6 metric tons of carbon dioxide are released by passenger vehicles per year.  As a solution to lower his own impact, he has tried to reduce his own car usage. Although he only has one, he tries to bike to school as often as he can in order to reduce his and his family's carbon footprint.
As advice for what the general public can do in regards to transportation, Mr. Goettler suggests carpooling as a more accessible solution. While biking is ideal, not everyone may live in a reasonable biking distance. By carpooling, the fuel emissions that would be spent on multiple cars can be reduced to one. 
Tip #2- Avoid Packaging 
Following this, he also explained how avoiding plastic/excess packaging and  making use of what you have can be a small step towards sustainability. 
One of the main questions to ask yourself is, "do I have to buy this?" or "can I reuse what I have?" In his own life, Mr. Goettler explained how he enjoys fixing things, which allows him to reuse them. In order to avoid packaging, he also tries to buy foods from bulk bins at stores, using glass containers that he brought to gather them. For buying food in bulk, some grocery stores he listed included Whole Foods, Sprouts, and Lazy Acres. 
Although the biggest environmental impact comes from transportation, he explained, avoiding packaging is a smaller, more do-able step. Some advice on what students can do to reduce the waste that comes from single-use plastics is to buy foods in recyclable packaging, bring your own reusable bags and bottles, and think critically about what you are buying and throwing away.
In relation to this topic, he said, "Your environmental impact comes primarily from what you buy."
Tip # 3- More Sustainable Choices of Food
Mr. Goettler emphasized that an easy way to live a more environmentally friendly life is for you and your family to make simple yet impactful changes to your diets. Mr. Goettler has been a vegetarian since the year 2000, but gradually cut meat out of his diet in the few years prior. Meat, especially red meat like beef, is extremely water and energy intensive to produce. In order to decrease your ecological footprint from your dietary choices and conserve valuable resources, Mr. Goettler highly recommends reducing your meat consumption. This does not necessarily mean becoming strictly vegetarian. Even cutting meat out of one or two meals of the day can make a big difference. Additionally, deciding to eat chicken or fish rather than beef is an environmentally responsible choice as beef requires much more water to produce.
Continuing his discussion concerning environmental impacts of food, Mr. Goettler stressed the importance of purchasing organic and locally grown produce. This includes produce grown in California, the west coast, and even Mexico, as opposed to other countries or hemispheres. Locally grown produce has a much lower transportation carbon footprint. This change can be as easy to implement into your lifestyle as quickly checking the labels or signs on produce before placing it in your cart. Requiring little to no sacrifice, choosing to buy locally grown food only involves thinking more carefully and consciously when selecting produce in the store.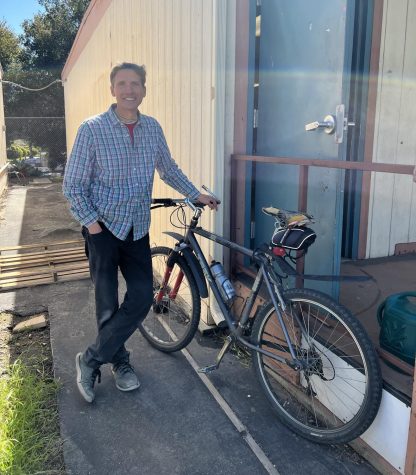 Sustainability in the Classroom
As a teacher of Environmental Science and Organic Gardening, Mr. Goettler has the opportunity to teach his students about the importance of sustainability and goes out of his way to make more environmentally friendly choices in the classroom. He encourages the increasing use of ipads rather than paper, and prints on the back of old one-sided documents to reuse paper. He also supplies the classroom with refillable white board markers, and prefers using natural light from outside instead of the classroom's lights when possible. Most notably, he provides three waste bins (trash, recycling, and compost) for the classroom unlike most teachers. He models how to recycle certain materials for students, as well as teaching them what types of waste belong in each bin. 
Mr. Goettler's Impact on Campus
Around campus, it is no secret that Mr. Goettler's teachings have inspired students to think more deeply about the environmental consequences of their lifestyles, and to make more environmentally responsible decisions in general. 
"I am certainly more aware of my carbon emissions because of the Ecological Footprint project," said a former AP Environmental Science student and junior, Sophia Torrey. "I am now more likely to carpool with friends if we are going to the same place."
San Marcos is very fortunate to have a teacher like Mr. Goettler, who actually lives what he teaches and shows students that living a sustainable life is in fact achievable. He inspires students to stay positive and to believe that we can change the fate of our planet, despite the negative news we are constantly being presented. The environmental challenges that we face today are too big for any one person to solve, and can be extremely overwhelming to even think about. However, if everyone made small changes to their lifestyles, as Mr. Goettler suggests, it would have a major impact on the overall, long term health of our environment. 
"Engaging with people in conversations and not thinking that these problems are too big to solve is crucial, because they are not. The more people that talk about them, the more people inspire others to act in a positive way," Mr. Goettler said.
If you are interested in sustainability or want to learn more about how human actions affect our environment, consider taking a class taught by Mr. Goettler. It has been a very eye opening experience for many students on campus.
Leave a Comment
Donate to The King's Page
Your donation will support the student journalists of San Marcos High School. Your contribution will allow us to purchase equipment and cover our annual website hosting costs.
About the Contributors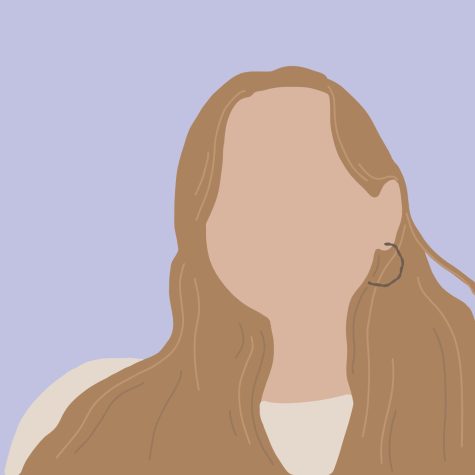 Candice Cugnier, Lifestyle Editor
Candice Cugnier is a senior at San Marcos High School. This is her second year on the King's Page. She is excited to be the Lifestyle Editor this year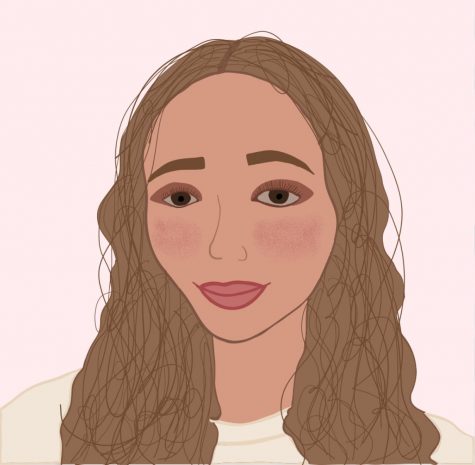 Lily Wallace, Staff Writer
Lily is a 9th grader at San Marcos High School. This is her first year writing for the King's Page and she is excited to experience working on a newspaper...