Honestly Your Honor
Early in the morning and in the afternoon of Saturday, March 4, 2023, our San Marcos Mock Trial defense and prosecution teams competed against Dos Pueblos' Mock Trials teams for the position to compete at state level for the California Mock Trial Finals. 
Every year each team is given a fictional case which includes witness statements and evidence to reference, among other details regarding allowable procedures. From here, coaches worked with the team of students to develop arguments, strategize, and refine courtroom procedures for their competitions. 
This year, the 40th consecutive year, the case involved an alleged robbery of a ring (maybe or maybe not belonging to Shakespeare) and an account of battery. Since September of 2022, the team lead by teacher Mr. Ohrn and attorney coaches Hilary Dozer, Jim Kreyger, and Heidi Sipes. In December, our San Marcos Mock Trial went to a scrimmage tournament (Lynbrook) in the Bay Area. They also hosted a similar tournament in January where schools from the Bay Area and Los Angeles came up to scrimmage. These scrimmages (also called "friendlies") helped teams practice their material and share ideas.
After countless meetings and hours working on their angles and case, it was time to compete.
On February 25th, several medals were earned by individual students during preliminary trials. San Marcos students that were awarded medals include: senior Katie Sipes earned best defense attorney, senior Elizabeth Léka received best prosecution attorney, freshman Karenna Saleh got best Cleo Shafer, sophomore Spencer Bauer earned best bailiff, sophomore Reese Danhauer got an honorable mention (Karter Lucky), and senior Alex Muller got an honorable mention. [These medals were donated by Roger, Sheffield, and Campbell.]
Regarding the competition on March 4, there were two trials, one at 9:00am and the other at 1:00pm. Although San Marcos teams won the verdict for their respectable cases, we placed second to Dos Pueblos' A team because the scoring is based on individual scores for each part of each trial. For example, the opening, directs, cross examinations of each witness, etc., are scored out of 10, the bailiff and clerk are out of five, and with closing statement and pre-trial out of 20. 
Stephen Wagner, a trial attorney with the Santa Barbara District Attorney's office who acted as a judge and juror during the mock trials said, "When we judge or score we are looking to determine how well the student lawyers field the questions, how well they exercise their listening skills, how they treated each other, those kind of things." 
By participating in mock trial, these students are building confidence in public speaking, working on concise reasoning, and learning the art of arguments. Everyone who attended (families, friends, coaches, presiders, supporters) are proud of our San Marcos students. 
Ellen Barger, Assistant Superintendent of the County Mock Trial, said this to all the students awaiting the final decision: "We are here to thank each and every one of you for what you've done, who you are and for what we know you will do for our community and other communities in the future. We love you, we appreciate you, we know that you have given it everything, you should be proud."
Furthermore, Mock Trial is a place to make connections. They learn from experienced attorneys and judges at law. It is a valuable experience that is offered to students. And as head coach Mr. Ohrn said, "It also builds a community of students, who work together in a team situation. They are competing together, they're practicing together, they become like a little mock trial San Marcos family together. We have a lot of fun."
Beyond this, San Marcos junior Hannah Henderson said, "I think it's pretty amazing that our extra curricular activity gets to be in such a historic building like the Courthouse." She also said, "Getting second to DP again this year has lit a fire under us to work even harder than we have this year and hopefully win next year."
So, while we were runner-up this year, our San Marcos Mock Trial team dedicated so much time, effort, and perseverance towards their competition this year. 
Leave a Comment
Donate to The King's Page
Your donation will support the student journalists of San Marcos High School. Your contribution will allow us to purchase equipment and cover our annual website hosting costs.
About the Contributor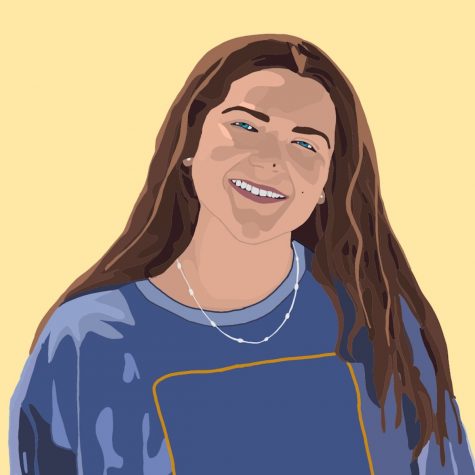 Evelina Erickson, Editor-in-Chief
Evelina Erickson is a senior at San Marcos High School. It is currently her fourth year with the King's Page. For the past two years she has been the...