Rewards Apps Guide
79% of consumers use a rewards app on their mobile device, are you one of them? With countless reward apps available on mobile devices, the amount of people who use them increases everyday. With just an app download, reward goals are automatically generated for the consumer to try to reach with their purchases. 90% of businesses use reward apps, as many customers have access to the online world. Some apps are more popular than others, but most importantly, a handful of apps actually have amazing rewards and benefits for being a part of their rewards program. We are all looking for ways to spend efficiently, as times are not easy with the inflation increase.
Starting off  Coffee Bean and Tea Leaf, Coffee Bean is a corporately owned coffee shop that has over 100 locations in California. When you download the Coffee Bean and Tea Leaf app, rewards members automatically receive a free baked good and a free drink of any size with any extra additions for the cost of zero dollars. There's nothing better than downloading an app and immediately getting free products from their store. There is also an unlocked Discovery Pass, containing a 10% discount once you place an order after scanning the app QR code before paying. Additionally, when a reward member invites friends to join their rewards program with a custom code, both parties receive a free coffee or tea drink. The rewards feel endless, but that's not everything. Every month, Coffee Bean releases a new monthly promotion perk on certain items or products on a particular day of each week to save even more money! For every dollar spent, a point is also loaded onto the rewards account, starting off at the purple tier, but with the more points gained, the more rewards a person gets. The more someone spends, the higher the level of rewards and tier scale. In the purple tier, rewards can be used for every 50 points. When 300 points have been reached, rewards are awarded for every 40 points. Lastly, the VIP tier rewards customers for every 40 points as well, but it includes special discount rewards and exclusive VIP offers. To become a VIP member and redeem the benefits, you must reach 540 points.
"I would recommend the reward app because as you can see the prices of coffee are going up, so it's like a bonus or receiving a freebie because you don't necessarily spend more in order to get the free rewards," said Goleta Coffee Bean and Tea Leaf manager Maxim Azdak. "You can read about our perks online for the app."
Chick-fil-A also has a rewards program that includes offers that are beneficial to saving money. For every purchase in store, curbside, or through the drive thru, after scanning the QR code on the app, points get loaded onto the mobile app. 10 points are earned for every dollar spent after scanning the code. Once there are 200-300 points earned, customers can use their points for certain drinks, sides, and desserts. When customers have worked their way up for 400-600 points, coffee, more expensive sides or drinks, and even a Chick-fil-A chicken sandwich/biscuit are the options once you reach 400-600 points. Deluxe sandwiches, nuggets, and milkshakes are options to be earned with 700-900 point credits. With 1000-1200 points, there's a higher quantity of nuggets, cookies, and the priciest sandwiches, as reward options. Finally, with 1500-1800 points, all of the salads are available to be earned. There are also different tiers of reward members. Chick-fil-A red reward members and signature reward members are able to save and earn even more! It feels like the savings never ends at Chick-fil-A because after using the rewards code for the first time, an email is sent to the email address that was used to sign into the app. The email sends a link to their website, where if the customer fills out the survey, they get a free sandwich digital coupon through email simply by spending about 10 minutes to rate their experience at Chick-fil-A.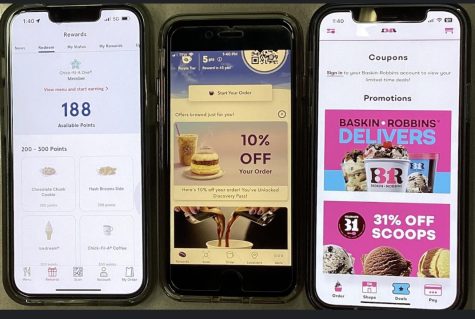 "I think our app is the best app on the market. We do our best to combine two value propositions for the guest: convenience, and the ability to receive free food! What is not to love?" Said Cody Underwood, Marketing Director at Chick-fil-A in Santa Barbara.
Baskin Robbins, the ice cream store that offers a variety of 31 different flavors, also has great perks when downloading the app. With a free scoop, once you've downloaded the app, there is a coupon that rewards members with a free scoop of ice cream in either a cone or cup. There are always coupons on the deals tab that are able to be redeemed. Rewards vary from money off certain items, buy one get one free, half off, and even more saving options. There's always a reward waiting to be redeemed by you, to save more money and to enjoy delicious ice cream. Every month that has a day 31st, Baskin Robbins celebrates by having their traditional promotion of 31% off of ice cream scoops. 
There's nothing better than getting delicious food, while saving your coin. The deals get better and better, while you eat more and spend less. None of the apps are required to load a card into. Definitely check out the reward apps that were listed if you are looking for convenience, saving, and enjoying food  at the same time with just a download of an app. 
Leave a Comment
Donate to The King's Page
Your donation will support the student journalists of San Marcos High School. Your contribution will allow us to purchase equipment and cover our annual website hosting costs.
About the Contributor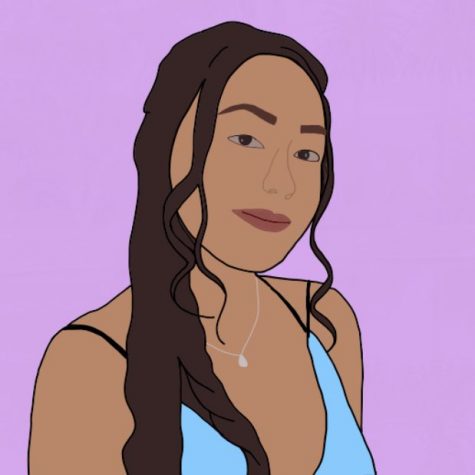 Viviana Galindo, Spanish & Business Editor
Viviana Galindo is a senior at San Marcos High School and is a second year staff writer for the Kings Page. She has two dogs that she adores. Her favorite...