Last Ever Book Reviews with Elizabeth
Hi readers. It is with a heavy heart that I write my last words to you. It has been a pleasure recommending books to you these past two years. Nothing has ever made me love books more than sharing them. I hope this column will continue next year, though under a different name (and author), because I too must become a simple reader. A new chapter must begin! And with that, I bid you adieu (until the end of the article, where I will express more tearful goodbyes). Enjoy!
"Alcatraz from Inside: The Hard Years" by: Jim Quillen
Genre: Autobiography
Jim Quillen spins his story of violence, hopelessness, and redemption. A traumatic childhood led him to his life of crime, and eventually ending up in the super maximum security prison Alcatraz. He details the bloodiest escape attempt in Alcatraz history from his insider perspective. Can he overcome his past? Or will his mistakes haunt him forever?
We recently went to San Francisco with Journalism, which included a trip to Alcatraz! Jimmy, voted (by us) the 1942 hottest alky inmate, was one of the four inmates featured on the Alcatraz audio tour. We fell in love with his voice and the picture of him on the poster, but before we could commit, we had to figure out how serious his kidnapping charge was, which led to us having to read this book. I have been on a bit of a biography kick lately, but this one was on a different level. I mean, people usually have stories about tough times to tell, but Jim experienced worse things than most of them. The book started off slow. He described his childhood, which, while not the most interesting, provided necessary context for his future criminal activities. Jim's sordid criminal past was fairly tame though. He was in the small leagues compared to some of the other folks at Alcatraz. In this section was where I learned what I started the book for: Jim's kidnapping charge.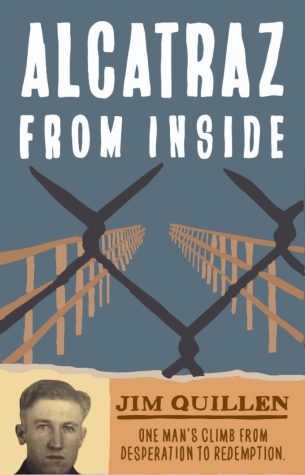 If I understood things correctly, he (with some others) kidnapped an older couple for the afternoon. It does not sound like too much harm was caused, so I raise a green flag to all potential Jimmy-lovers. Most people after getting the information they wanted out of a semi-boring book would stop reading. I, on the other hand, have a sixth sense for juicy parts of books, so I kept going. And, boy did it get juicy! For me, the main draw of this book (what I would use to thrust it upon people in my life) is the full coverage of the attempted Alcatraz outbreak in 1946. I had never heard of this one before. It was covered on the audio tour in Alcatraz, though for too brief a period considering the gravity of this so-called "battle." Instead, we heard more about the attempt (or possible escape) made in 1962. It is fair enough, because there is a whole movie about the 1962 one, but I found the 1946 escape attempt way more interesting. You can find plenty of information about it online, but Jim's book offered a unique perspective: that of someone who was there. After his time on Alcatraz, Jim completely turned around his life. He used his skill as a X-Ray tech (learned on the island) to get a job in San Quentin, and eventually out in the world. It was really inspirational to read about someone going through a complete transformation for the better. He was motivated to turn his life around, and he did. 
Book Rating: 10/10 (a historical look inside America's prison system with a redemption arc)
AAPI Heritage Month Pick:
"The Mermaid, the Witch, and the Sea" by: Maggie Tokuda-Hall
Genre: Fantasy Fiction, Romance, Swashbuckler
Evelyn and Florian meet aboard a ship. More specifically, a pirate ship that has decided to take its wealthy passengers (including Evelyn) captive. Evelyn was sailing the seas to an arranged marriage when this conveniently timed imprisonment happened. Florian, born Flora, chose his life of piracy over the streets, leading to this chance encounter. They both had seemingly straightforward paths in front of them, but once love finds them, they will do anything to change their destinies.
I love a good swashbuckler, especially a fantastical one. Pirates are just about the best thing ever, and this book (unlike most) showed their non-glamorous life. A lot of pirates show up just to battle, but this crew did a lot more than that. They fished, caught things, and drank their blood. Vampires? No, just pirates looking for a way to forget. As for what they caught… I will leave that to you to find out when you read the book (or its title). I loved that this book featured different perspectives depending on who the action surrounded: Florian, Evelyn, Florian's brother Alfie, the first mate Rake, etc. I also loved the cover illustrations, particularly the Floating Islands on the back cover. I could not imagine the pulley system leading up to the witch's house before seeing that. I also want to commend the author for how she wrote Florian and Evelyn's initial dynamic. Florian was the pirate assigned to guard Evelyn (as previously mentioned, a captive on the ship). This could have turned into a Stockholm Syndrome incident, but instead was perfectly steered into a sweet adolescent love. They bonded over reading, writing, and… that thing that the pirates catch. The author did a fantastic job world building. The different lands were reminiscent of "The Extremely Inconvenient Adventures of Bronte Mettlestone" while still keeping an adult air. And there were some more adult themes in this book like sexual assault and addiction. These topics simultaneously remained serious and fantastical; the world building was that strong. Now, I will circle back to one of the main protagonists, Florian (or Flora). "Florian" was created upon Flora and Alfie's arrival onboard the Dove (their pirate ship). With many fearsome men onboard, Flora was advised to become a man herself – to gain respect and protection. Florian was really thrown for a loop when he met Evelyn. Not only did he like her, he could not let her know his true identity, lest she reject doubly. He was at an impasse up until their escape from the Dove. From there… well, yet again I will let you find out for yourself. I think fantasy book quality has been waning since Covid, so it was a relief to find myself thrown into another tale with magical creatures, love, and pirates!
Rating: 10/10 (I love pirates!)
Bookish Hot Take (semi-rant):
The third book in a four book series is always the best. For example, consider "The Penderwicks" by Jeanine Birdsall, a childhood classic. The third book in the original series (a fifth book was added eventually) features the sisters – minus Rosalind who is traveling with her friend Anna – plus Jeffrey on summer vacation in Maine. The truths that are revealed in this book and the fun new setting makes this the highlight of the series. Well, more books follow this pattern. In the "Diviners" series by Libba Bray, the third book is the best, because the relationship we were all waiting for finally happened! This rule also applies to the "Naturals" series by Jennifer Lynn Barnes. The third book takes place in Las Vegas, introduces a brother and family for one of the main cast, and is just literally so good. So, to conclude my unauthorized TEDTalk, when you are reading a four book series (even if it is not that great at the beginning) stick it out until the third book, it will be worth it.  
Well, this is the end, so I guess this is goodbye. Thank you for reading, and indulging all my bookish rambles. This summer, I dare you to pick a book at random and read the whole thing. This could be something off your TBR, a re-read off your bookshelf, or something grabbed at random from the library. It could be terrible, it could be wonderful, but it will be an adventure that you should have. As always (and for the final time), happy reading. 
Leave a Comment
Donate to The King's Page
Your donation will support the student journalists of San Marcos High School. Your contribution will allow us to purchase equipment and cover our annual website hosting costs.
About the Contributor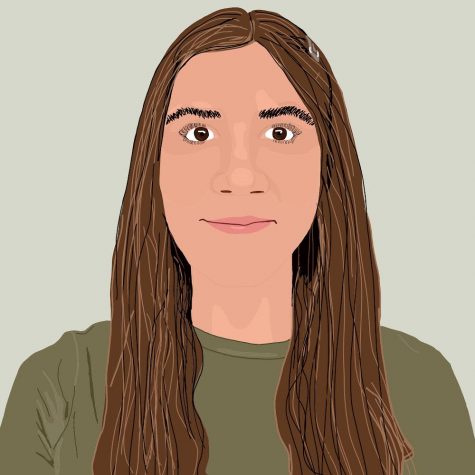 Elizabeth Léka, Opinion Editor
Elizabeth is a senior at San Marcos High School. Opinion is her favorite section, and she has essentially monopolized it for two years now. She loves anything...