The San Marcos Art Show
During this month the cafeteria was serving something more than food. Starting on Thursday, May 11, this year's San Marcos Art Show opened up in the cafeteria, where the art of many talented students was displayed.
One of these artists was senior Jackson Leck, whose AP Art portfolio was featured in this year's show. 
When describing the art style in his portfolio, he said, "Throughout my portfolio I used blocky realism and experimented with variations of mark-making, abstraction, and color to create a strong visual impact in my works. Using a palette knife was an interesting way to achieve different effects and textures." 
Jackson explained that he started off by drawing friends and family, while also incorporating some street photography. 
"I found that in most of the pictures, people had somewhat unreadable expressions, and I began trying to give my portraits emotions where there originally weren't any… I found that vibrant colors suited positive emotions, while the opposite was true for negative ones. Textures, line widths, and shapes became useful tools throughout my process." 
Another artist, junior Jordan Kowalewski, created a series of collages using drawings and cut-out images. For her process, she explained that it usually starts off by cutting out some images, with the idea behind the piece developing, as more and more details are added to the art. Her main piece featured an explosion made of flamboyant orange and yellow paper cutouts, with an image of a group of people looking at it.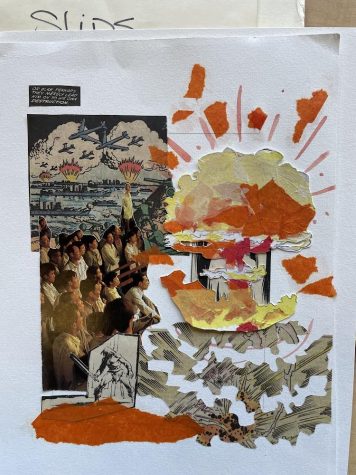 When describing the meaning to this specific piece, Jordan said, "It's more of the idea of panic and uncertainty behind watching things unfold… it could be metaphorical, it could be literal, but a lot of what happens now is that things happen and people can't really change anything, so they just sit back and watch. This piece was a part of a three piece collection and maybe just some hot takes on that." 
Lastly, junior Emily Kennedy also created a painting that made it into the art show this year. 
About her process, Emily explained, "I created this piece by stretching my canvas to the desired size, then I did different layers of paint over time. My medium of choice was oil paints."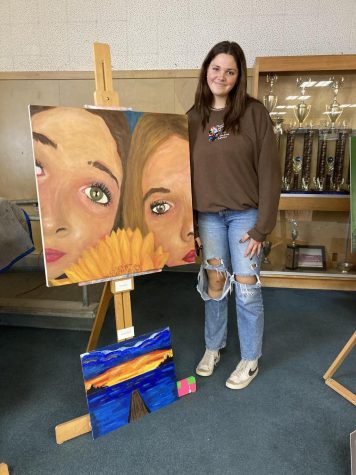 Further elaborating on  the meaning behind the piece, Emily said, "I wanted this piece to show the people I love and I wanted to include bright colors, so I added flowers and painted subjects of the people close to me. This project is a great learning experience and forced me to experiment and learn about myself through art."
With projects ranging from ceramics to graphite, this year's art show was great in showing the diversity of mediums that students used to create their projects.  Overall, these artists all showcase the wide range of talent that is seen at San Marcos' art department.  
Leave a Comment
Donate to The King's Page
Your donation will support the student journalists of San Marcos High School. Your contribution will allow us to purchase equipment and cover our annual website hosting costs.
About the Contributor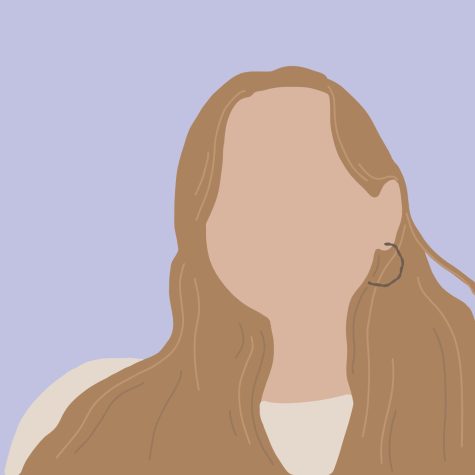 Candice Cugnier, Lifestyle Editor
Candice Cugnier is a senior at San Marcos High School. This is her second year on the King's Page. She is excited to be the Lifestyle Editor this year