SB Ice Cream Bucketlist
With extremely hot temperatures expected to arise this summer, it is essential to know where to get the absolute best cold, refreshing, and delicious ice cream. Santa Barbara offers a variety of corporate and small business ice creams, ranging from yogurt, to gelato, sorbet, and other forms. Because of the different cultures that live in the Santa Barbara area, Santa Barbara is very fortunate to have so many different types of ice cream. 
Depending on the type of ice cream you are craving, there are certain shops that cater the best type of ice cream for the type of ice cream you're looking for. If in need of a high quality scoop of ice cream, Rori's Artisanal Creamery is the place for you. Rori's has many unique options to choose from and their portions are very generous. Though pricier for ice cream, it is totally worth treating yourself to. The flavor of their ice cream is very well known because the ingredients that they use are of higher quality. The majority of the ice cream that they sell is rich, but their fruit based ice cream is sweet, yet very fresh. With every lick or spoonful, you savor the flavor and enjoy it.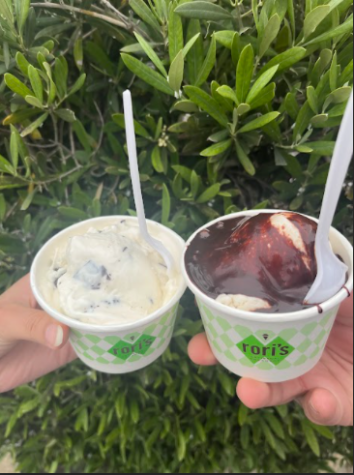 "I like how it strives to be as organic as possible. My favorite flavor is honey almond crunch because it's really sweet with the honey and has a nice crunch. The flavor says it all," said junior Roman Trovato.
Similar to Rori's, yet not exactly the same, Mconnell's Fine Ice cream is another amazing option to go for when you are on the lookout for ice cream. McConnell's started off in Santa Barbara, but since then, their ice cream has been packaged into pints and is sold all over the United States in grocery stores since their flavors are delicious. The fl-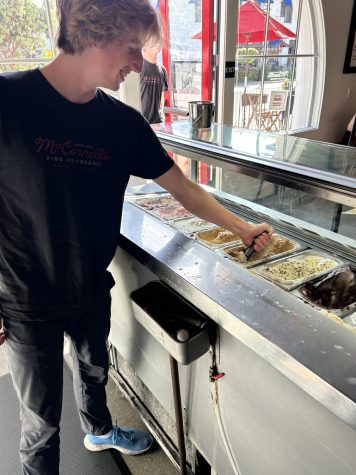 avors they sell are made from scratch and are one of a kind. Their main focus is that the ice cream they sell is made out of real dairy.
"Students should come over the summer because they will surely be at the beach one of these days," said senior Spencer McLean. "It is the best ice cream you'll find in town!"
Gelato is much different from normal ice cream because gelato is denser, but soft and silky because it has less air. The concentrated flavor from gelato is what makes it so unique, causing the flavors to burst in your mouth. If you are taking a stroll in the lower downtown area of State Street and are craving gelato, by visiting Tondi Gelato, you've just won the lotto. Tondi Gelato has the best gelato in Santa Barbara. All of their gelato flavors have fresh ingredients that are also pick
ed from the weekly local farmers market on State Street. They offer dairy, nondairy, and even vegan options for everyone to enjoy. Their gelato is completely made from scratch which is what makes Tondi Gelato so authentic and well worth the price.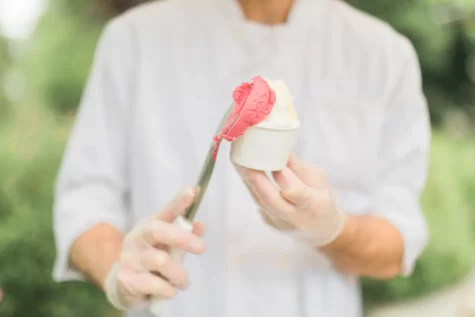 The options stated above are worth the price, but when looking for a more affordable option of ice cream, the answer is simply Thrifty Ice Cream sold at Rite Aid. With all of the flavors that Thrifty has to offer, there is always something for everyone to indulge in. Their unique cylindrical ice cream scoop shape makes it so much more iconic. Thrifty Ice Cream is the classic type of ice cream that we all need to try at some point in our lives.
La Michoacana is a common name for a Mexican ice cream shop with roots from Michoacán, Mexico. In Santa Barbara, there are two Michoacana ice cream locations, one on the eastside and the other on the westside. Both of the locations have similar ice cream flavors. Their ice cream flavors vary and range from a large amount. Many of their dairy based ice cream flavors are Mexican treats in ice cream flavors. An example is the well known Mexican treat named a "gansito", which is a yellow cake with raspberry and cream filling dipped in chocolate and topped with sprinkles. Imagine that sweet treat, but in an ice cream form. That is what the Michoacana does with a lot of Mexican desserts and fruits. In addition, they also carry ice cream with a spicier kick to it, similar to Mexican candy, which is sweet and spicy. It is what makes their ice cream so unique, due to the fact that no usual ice cream shop does this. 
Whether you're leaving Santa Barbara or staying in town, I definitely recommend you try out all of these ice cream places that are well worth your time and coin!
Leave a Comment
Donate to The King's Page
Your donation will support the student journalists of San Marcos High School. Your contribution will allow us to purchase equipment and cover our annual website hosting costs.
About the Contributor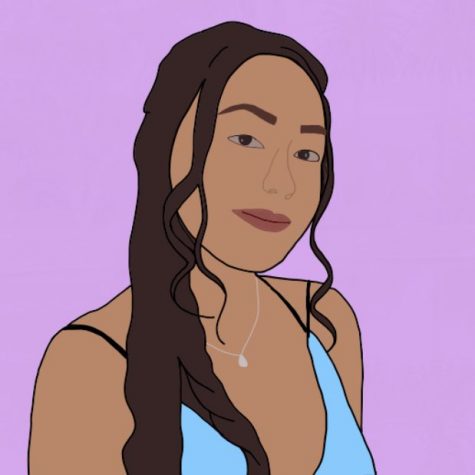 Viviana Galindo, Spanish & Business Editor
Viviana Galindo is a senior at San Marcos High School and is a second year staff writer for the Kings Page. She has two dogs that she adores. Her favorite...