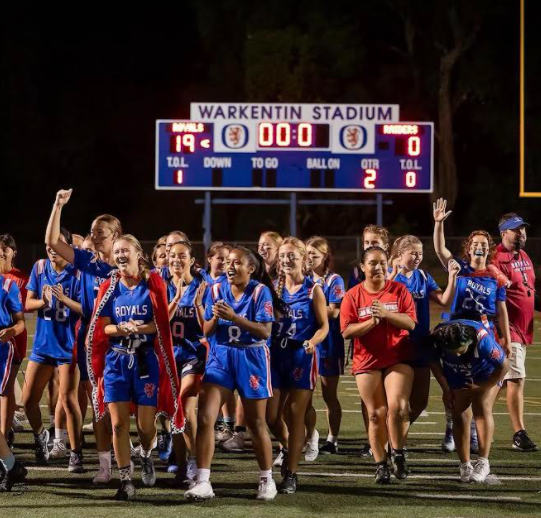 Now that the 2023-2024 school year has commenced, the King's Page is back in action to bring you coverage of all things San Marcos! With the historic win of our very own girl's flag football team and the unexpected weather we experienced, there have been plenty of exciting events to kick off the new school year. Here is just a snapshot of our Back-to-School issue, more to come soon!
Hurriquake Hilary
AVITAL ABRAMOV
Copy Editor
A sticky humidity filled the Saturday afternoon air, and the usual clear skies of Santa Barbara were slowly filling up with wispy clouds coming in from the South. Like many in the city, San Marcos senior Kaitlyn Caldow knew that a hurricane would be coming. So, she rushed to the beach, taking advantage of the final weekend before school started. 
All across the state, unique weather patterns have been impacting this back-to-school season. Districts in Los Angeles, Orange County, San Bernardino County, and Riverside County closed down schools on Monday, August 21, due to Hurricane Hilary. 
"I had no concept of how awful it could be," said substitute teacher Mrs. Garcia.
 Climate.gov explained how uncommon it is for a category four hurricane like Hilary to maintain strength in this part of the world due to the cool temperature of the Pacific Ocean. Hurricane Hilary has been stirring up heavy social media coverage, but another California classic soon made headlines in the Santa Barbara County area.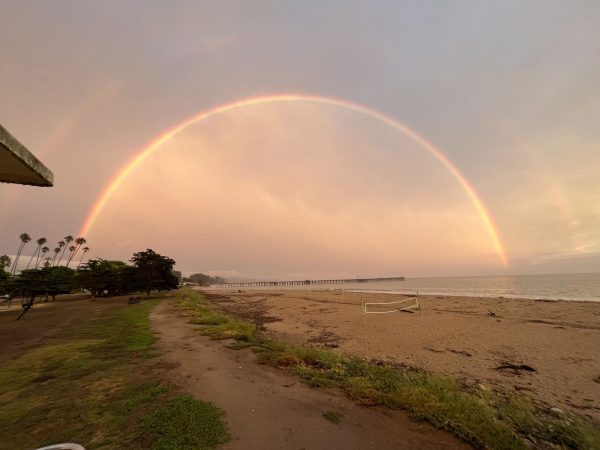 Amidst the rain, Kaitlyn returned to the same beach the following day to show her cousin from Canada the beautiful cliffs of Hendry's Beach. All of a sudden, an alert went off on Kaitlyn's phone. 
"Earthquake! Oh my gosh I thought it would be a flash flood warning because of the hurricane but it wasn't," she said. A new catastrophe struck as the two girls were trying to enjoy the last day of summer. "My cousin was kind of scared because she didn't know what was going on." They saw rocks sliding down the cliffs and the two quickly started walking to the Boathouse Cafe. 
Although the earthquake did not hit Santa Barbara with as much strength as other parts of southern California, all across the city people were startled by it. 
"All of a sudden my car started shaking…I thought someone was on it," explained San Marcos senior Emma Foster. Luckily, the earthquake did not cause any major damage or injuries in the area.
As the day came to an end, the extreme weather conditions settled. The thick clouds parted and in the opening, a full double rainbow emerged. The bright colors could be viewed for miles across the Goleta and Santa Barbara area. After a stressful day, Kaitlyn was also able to enjoy the rainbow similar to others. The preparation for the new school year was slightly unorthodox, but she is still "excited for the upcoming school year."
History Made: SM Flag Football Team Wins First Ever Game
OLIVIA MARCEDA & EVELINA ERICKSON
Editors-in-Chief
Silence filled the air as the crowd held their breath in anticipation of the first ever touchdown by San Marcos' Girls Flag Football team. Rhythmic thuds of cleats against turf shook the stadium as players ran, dodged, and swept their opponents 19-0: a win that will go down in history. 
On this day, August 24, 2023, the San Marcos Girl's Flag Football team made history with an energetic win against Channel Islands. The strong 35-member team was trained by previous boys football coach Jason Fowle.
  "The team is amazing, everyone is so close," said senior linebacker Jordan Kowalewski. "The chemistry is amazing on the field and in practice. This team has a real winning spirit and I'm so proud of every one of my teammates."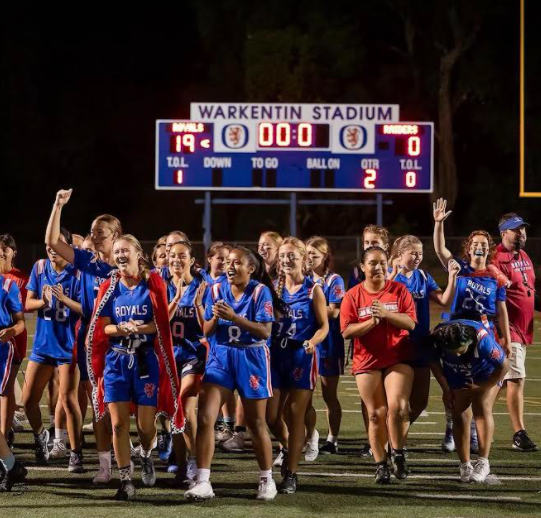 Highlights of the game started in the first quarter when junior Jazmin Ordaz made an assisted run 40-yards long leading San Marcos 6-0. Following this, sophomore Peyton Sperling ran 75 yards to the endzone for the final touchdown. Freshman Marlyn Monroy sacked Channel Islands' quarterback, showcasing "amazing defensive work," according to senior Jordan Kowalewski.
With a win under their belts, the Royals will take on Rio Mesa on the road next Thursday. Their next home game is September 7 against our rivals, Santa Barbara High School. Make sure to show up for our Royals!