It's that time of the year already, royals. Spirit weeks, dress shopping, and creative proposals are back, and better than ever. Whether you are going to the dance with a date or with some friends, everybody has one thing in common: we want to look our best. And what better way to do that than a fun hairdo?
These are two different trending hairstyles for two different people. If you are more of a dancer, you may want to consider a pretty ponytail with curled strands in the front, so your hair isn't in your face.
"I like ponytails because you can also create hairstyles within them," said Sophia Hall, sophomore. "Like curls, braids, or wraps and twists!"
Now if you want something perfect for pre-dance photos, try thesesimple and shiny curls! some simple yet fun curls. Stay tuned for tips on how to get that extra shine!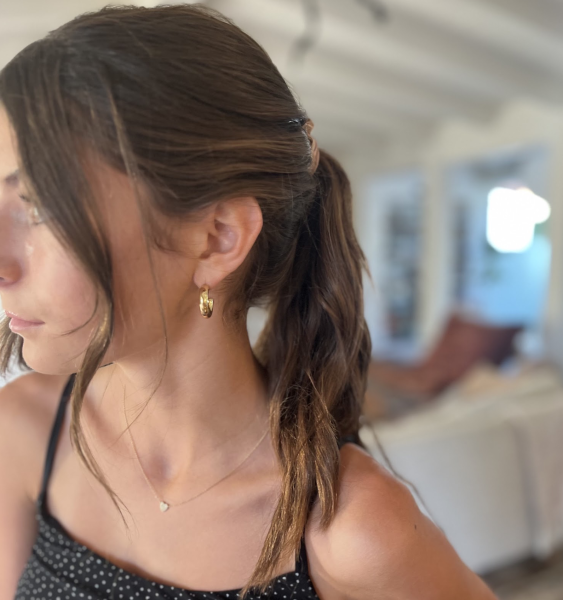 Ponytails can be done so many different ways; there's the chic slicked back ponytail, the confident high pony, and the messy ponytail with loose strands in the front. This ponytail carries a feeling of effortless elegance, especially when curled. And the best part? It couldn't be easier to achieve.
Start by putting your hair up. Whether you decide to do a low or high ponytail is up to you. Once your hair is up, spray it generously with heat protectant. Avoiding this step will cause your hair to become both unhygienic and damaged, so it's important not to forget. Now that your hair is prepped, you can start curling. Make sure you are curling away from your face and with the clamp of your iron. Curling against the clamp will cause a dent at the end of your hair. Once you are finished, spray yourself with hairspray.
I personally recommend the one TréSemme makes. It smells amazing, and holds a great curl. Finally, douse the ends of your hair with oil. Oil can easily cause greasy hair, but I noticed that Moroccan Oil, Kerastase, and Ouai are brands that do a good job avoiding that, while still offering shine.
And there you have it: a dressed-up ponytail that will look great while keeping your hair back when you dance.
On another note, try these loose spiral curls if you want perfect pre-dance photos. They are not as dressy as the tight Shirley Temple hairdo, and not as casual as beach waves, making them perfect for Homecoming. They have just enough strength to hold on the dance floor, and will for sure get you a couple of compliments throughout the evening.
Start my sectioning your hair. The amount of sections needed will differ based on your hair thickness. Once again, spray with heat protectant before beginning to curl. Repeat the same way of curling from the ponytail tutorial. Afterwards, don't forget to use hairspray and oil! Note that while you can brush your curls out, depending on your hair type it can cause your curls to fall out. If you decide to brush it out, wait until your hair has cooled. Tip: if your roots are frizzy with flyaways, but you don't want to brush your curls, you can lightly comb the roots of your hair, stopping before you get to the curls.
Hopefully you will have an amazing homecoming night whether you are dancing the night away with a ponytail, or posing for pretty photos with loose curls!