As October sets in, bringing scary movies, fall leaves, and pumpkin spice, it also sheds light on a disease that more than 300,000 Americans are diagnosed with every year: breast cancer. As the most common form of cancer, according to the National Breast Cancer Foundation in 2020 alone, 2.3 million people worldwide received a diagnosis, resulting in around 685,000 deaths from the relentless disease. Affecting both men and women, breast cancer statistics are stark, estimating that one in eight women will develop breast cancer in her lifetime. The likelihood of developing the disease rises with age, particularly after reaching the age of 70, and approximately 85% of individuals diagnosed have no family history of the condition. Every twelve minutes in the United States, breast cancer takes a life. October is a month to recognize the strength of those fighting the disease, and to honor those that have been lost.
There are many events during the month of October that are aimed at raising awareness, such as funds and support for individuals and families affected by the disease. One of the most iconic symbols of solidarity and support during this month is the Pink Ribbon Campaign. Throughout the month, businesses, communities, and individuals show off their pink ribbons, serving a spark for conversations, education, and action for the mission of eradicating the disease. On campus, the cheer team adorns pink bows, pom poms, and other pink accessories for Breast Cancer Awareness Month. The 'Barbie' theme for the football game on October 6th was not only chosen because of the love shown for that movie, but also so that our student section would engage in support for those affected by breast cancer.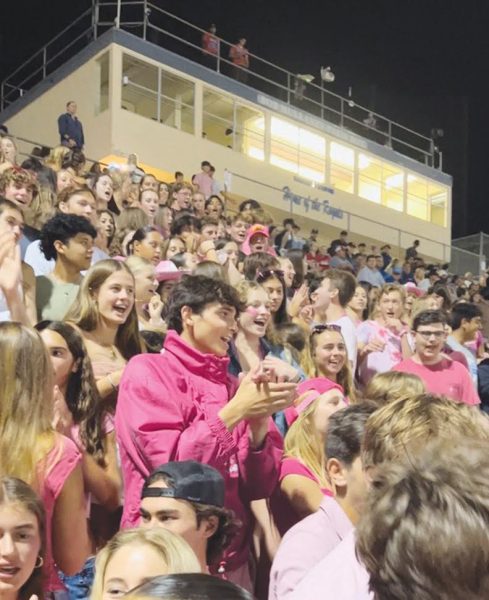 "The entire student section was pink, it was really great to see," said ASB sophomore class vice president Hadley Schmidt.
Here in Santa Barbara, the Breast Cancer Resource Center provides support and education to those navigating their treatment. With their medical resources and peer counseling groups, they are a powerful non profit organization many local people can lean on if they need it. During the month of October, they have an annual Pink Week with events that includes webinars tackling issues from early detection of the cancer to post operative care, as well as speaking about the importance of raising awareness about breast cancer. This week is powerful and uplifting, and is what Breast Cancer Awareness Month is all about.
Many famous landmarks also participate by lighting up in pink during the month of October. In Paris, the Arc de Triomphe, the National Assembly, and the Eiffel Tower all are bathed in pink light every year. There are many other famous landmarks that light up pink, including the Empire State Building and the White House in the United States, the Christ the Redeemer statue in Brazil, Niagara Falls in Canada, and the London Eye in England. Each year, this vibrant display stands as a visual testament to the effort made by many countries to raise awareness and support those affected by the prevalent disease.  
October serves as a powerful reminder of the widespread impact of Breast Cancer. Beyond the staggering statistics that show the urgency of awareness, the month is also a beacon of hope for positivity and support. Across the world, communities unite with events and symbolic gestures in an unmistakable commitment to those affected. With every pink ribbon, supportive gesture, and illuminated landmark, Breast Cancer Awareness Month is a call to action in the global fight against Breast Cancer. So this October, wear a pink ribbon and extend your support to those you know that are affected, and as a community we will unite.