Thanksgiving is a charming holiday celebrating family, gratitude, and the last sliver of fall. While classically known for its delicious food or celebration of the early-on pilgrims, some may also think of it as an opportunity to show off your autumn wardrobe. Whether your family is having a more casual dinner, or a more dressy feast, this article has outfit inspiration for you.
The first Thanksgiving clothing idea is this leather mini skirt from Princess Polly. Mini skirts are great because they are very flattering, especially this one. This skirt is great because you can effortlessly dress it up and down, and adjust it to the current weather. For a more relaxed look, try styling the skirt with a loose sweater and sneakers. If you are shooting for something more elegant, you might want to wear a satin top and some ankle boots. Note that wearing this skirt results in a lot of compliments, no matter how you choose to wear it!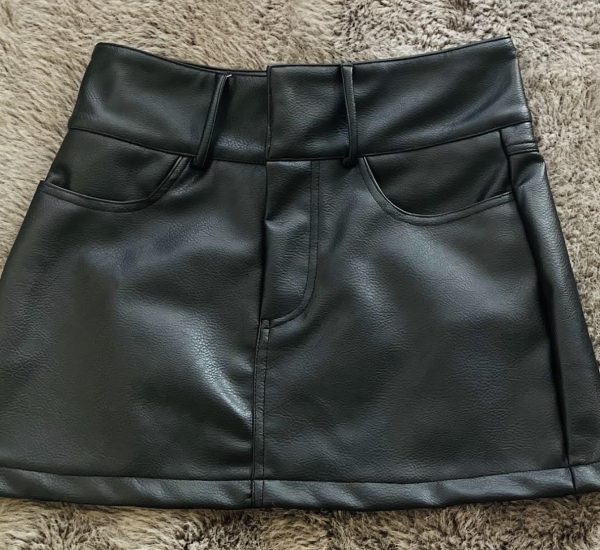 The next idea is to take a trip to your local thrift store, such as Crossroads, The Closet, or Goodwill, etc. You never know what you may stumble upon. Resale shops always have a unique selection of jeans, sweaters, boots, and vintage dresses. It's so much fun to search the racks, imagining the previous owner of your scavenges. Plus, whatever you find, will be just yours. You won't have to worry about accidentally showing up in the same dress as your cousin. 
Even if you want a more formal look, always start in the jeans aisle of your thrift store. "A pair of denim is a staple," states sophomore Natalie Anderson. Like the leather mini skirt, you can easily dress it up and down. For a fancier outfit, add some leather boots, and bouncy curls with a plaid headband. If you are dressing for a more informal Thanksgiving, all you need is a white t-shirt and oversized cardigan. 
Finally, go to Pinterest. It is unnecessary to buy a whole new outfit just for your Thanksgiving feast. Scroll through the app, searching for your style in particular, and then recreate the outfit with clothing from your own wardrobe. This is simple, and doesn't cost a thing!
Hopefully these outfit inspirations found you well, and now you have a clearer idea of what you want to wear on this special Holiday.