Featuring Student Art: September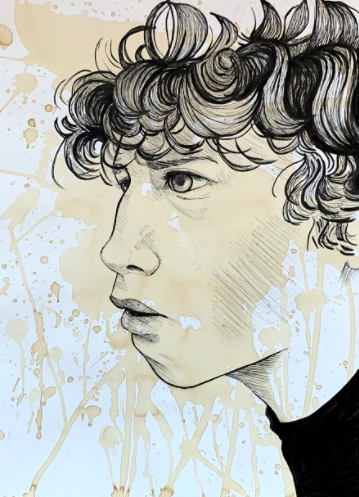 Drawing, painting, sculpting; all things everyone can do, whether you are an artist or not. Some use it as an outlet for emotions, struggles, or ideas, while others leave it to the viewers to decode the true meaning of their piece. In this segment of "Featuring Student Art," two students (one from Ms. Rainville's advanced free hand drawing class, the other from Mr. Vogels sculpture class) share their art and the meaning behind each piece.
For this project, Ms. Rainville asked students to complete portraits. Junior Ella Piersma certainly delivered.
"I used cardboard, coffee, pens, and pencil," said junior Ella Piersma.
Adding a medium as interesting as coffee to their artwork makes this piece much more unique. Further, one might see spilling coffee on a piece of paper, a mistake or a sign to start over. However, by purposefully doing it and turning it into a stunning portrait, viewers are able to appreciate the talent of this young artist.
"I played around with different mediums to see how realistic I could make it," said Ella. This beautifully made piece showcases the effect of using different mediums on art.
In Mr. Vogel's 3rd period sculpture class, students are asked to make something representing characteristics about themselves.
Sophomore Estafania Berumen's intricate and eye-catching piece reveals a lot about the artist once each detail is understood.
"This project's purpose was to 'build a sculpture reflecting your personality and characteristics about yourself while making them 3D,"' said Estefania.
When asked what characteristics she chose to display, Estefania said, "I chose to include curiosity and made things sticking out of the sculpture because to me curiosity is moving around from one thing to another."
Estefania's piece captures viewers attention and in turn allows one to understand every strategically placed item.
Both pieces displayed in this edition of "Featuring Student Art" demonstrate the effect of using different mediums and tools on various artists and their work.
---
Donate to The King's Page
Your donation will support the student journalists of San Marcos High School. Your contribution will allow us to purchase equipment and cover our annual website hosting costs.