Sydney Walker's piece "3c 3b" not only holds the attention of the viewer but also holds power. The mixture of watercolor, a soft medium, and ballpoint pen, a harsh medium, balance out perfectly creating the realism of a human body and attitude. While the hair is undeniably the focus point of the piece, the way the portrait is drawn to the mysterious eyes that seem to be hiding a story I desperately wish to know.
"The inspiration for my piece was my hair, and 3b 3c hair types," said Junior Sydney Walker. "A statement/message I was trying to convey in my piece was how crazy, beautiful, unique and all over the place, 3b and 3c hair types and just curly hair in general can be."
Sydney definitely communicated her message in a beautiful and punctual way that makes the viewer feel. Not only does this piece make you feel, but it is an artistic reminder of how crucial it is that as a school we not only accept but embrace and celebrate the uniqueness of our students.
Within the past decade young Latina and African American girls have been sent home from schools around the country for "violating the dress code" by wearing their hair naturally. For many it is hard to imagine seeing anything other than beauty at the sight of women wearing their hair in whatever way they see fit, but because of Eurocentric
beauty ideals something as fundamental as hair has become a topic schools see fit to control. "In 2014, 12 year-old Vanessa VanDyke was threatened to be expelled from her school, Faith Christian Academy in Orlando, Fl., if she did not comply with the schools dress code and cut her hair, which they deemed a 'distraction.'" It's Not Just Hair by Alexis Ojeda-Brown. These outrageous and unjust situations must be addressed and brought to attention in as many ways as we can. By appreciating art that focuses on curly hair, like Sydney Walker's, we exposed more to its beauty.
Margaret's captivating piece was made out of graphite, white colored pencils, and an old cardboard box. The simplicity of the materials needed goes to show how art can be done with nearly nothing while still maintaining elegance.
"I guess the inspiration for this piece was the subject of it, my cousin Brooke," said senior Margaret Hons. "She and I have been practically tied at the hip since we were toddlers, and being around her always brings me so much joy, and I wanted to capture some of that energy in my art."
When asked if she was trying to make any statements with her piece she responded with:
"Not necessarily this piece on its own, but generally with my art, I hope to make others feel the way I feel looking at different pieces and forms of art, because I see so many people who are incredibly creative and awesome at what they do, especially when it's something they're passionate about. I want to help people feel that, because there's really no greater feeling than doing something you love."
If you look at this piece for any amount of time you will undoubtedly feel something. For me it is familiarity, not from knowing the subject of the portrait, but from the kind features and welcoming expression that is melted in the paper. Being moved to joy and feeling welcomed by a portrait is quite an achievement for young artist Margaret Hons.
Kayla Esperanzas portrait "Innocence" has the warmth and kind eyes of a child, but is made up of pens and paint instead of skin and bones. The bright colors give off a sense childish personality that makes the portrait more inviting and lifelike.
"The mediums I used were POSCA paint markers, mainly blue, yellow, and white and also I used a thin fine sharpie," said Senior Kayla Esperanza.
While bright blues and yellows are not near a normal human skin color it gives off the characteristics of a light spirited and "innocent" girl.
"I wasn't necessarily trying to make a statement, I was just trying to do something different," said Kayla. "I've taken a lot of art classes so I wanted to use a different medium than your normal graphite pencils or acrylic paint."
Kayla's use of a different medium aligns perfectly with the curious spirit of children, like the one in her portrait. While she previously stated she was not trying to make a statement, art is up for interpretation, and sense I am an interpreter to me this stunning portrait shows the curiosity ingrained into our minds while we are children. Being able to show that quality through art shows the perfect execution of someone's talent and hard work. Someone like Kayla Esperanza.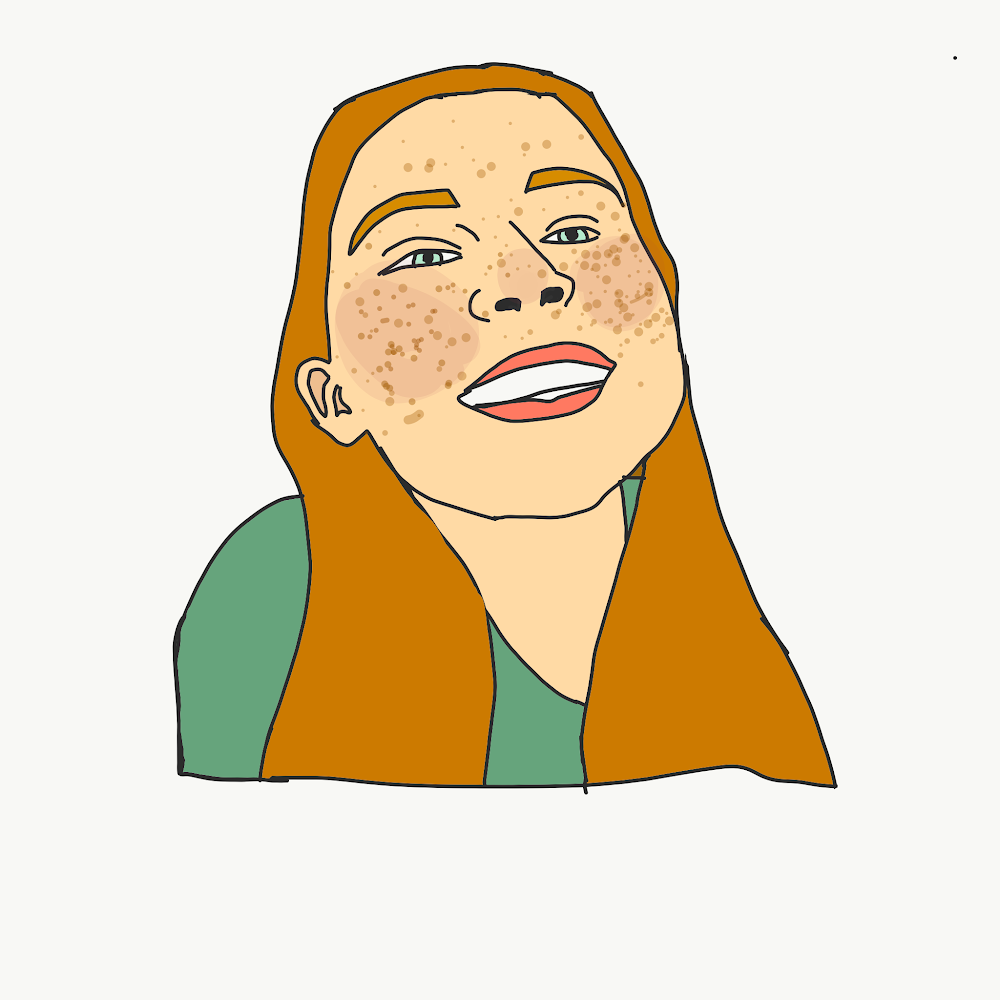 ---
Staff Writer
Olivia is a freshman at San Marcos High School…