San Marcos has incredible classes, sports and academies but all too often we forget about the wonderful clubs we have and how they unify our students. Students with niche interests can meet others like them in constructive, social meetings. Clubs not only elevate the San Marcos environment, but also bring together people for a uniting source.
One fantastic club at San Marcos is the Hiking Club. The San Marcos Hiking Club, staying true to their name, meets during after school hours at local trails and goes on hikes together. This social form of exercise gives students a break from their phones, homework and possibly stressful home lives, allowing them to free their thoughts in nature with other good people.
"Last year me and my friend were talking to our track coach about ways to stay in shape or have some sort of activity in the off season,"said club president, junior, Elizabeth Leka. "Obviously she suggested joining cross country which, no. She was like, 'Maybe you could start a club where you do some outdoor thing.' We were like 'We like hiking, so let's start a hiking club.'"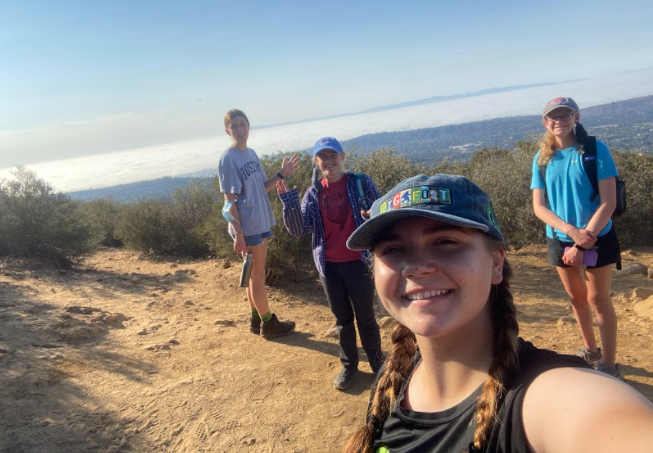 Thankfully Elizabeth and her co-president Lucy London stuck with their idea and now have a successful club with 17 members.
"We hike every week," said Elizabeth. "Every other week we do an actual hike and the other week we do a beach walk sort of thing. Our first hike was in Tucker's Grove because we do have a lot of more new hikers and we wanted to make sure that especially at the beginning of the year we are starting off easy. "
While the hiking club is starting off easy, they plan to build up the level and eventually go on hard hikes in Gaviota. The Hiking Club also meets at school during lunch on Tuesdays in room F8. To get more information, contact Elizabeth Leka at [email protected].
The hiking club's next hike will be at Steven's Park on October 30 at 9:00 am. So kick off your Vans and pull on some hiking boots Royals, because this club is ready for you!