In our lives, friends, family, and those that we are close to come and go. And unfortunately, after this year, 10 teachers will be leaving our beloved school. The teachers that are going to be leaving include, Coach Kuntz, Ms.. Heenan, Ms.. Gavaldon, Mr. Taylor, Mr. Anderson, Mr. Laforge, Mr. Devries, Ms. Hernandez, Mrs. Zender, and Mrs. Danielson.
Coach Kuntz, who taught 9th grade English for 33 years, will be retiring after this year. Although he has been a successful and popular teacher, Coach Kuntz expressed concerns about the future focus of our education system. Kuntz shared, "I love teaching 9th grade Honors English, but the focus on equity and socialism has eroded our educational system… and I cannot support this movement." Although Coach Kuntz will no longer be teaching here, he will continue his position at San Marcos as the head coach of our boys volleyball program. He explains that he will spend his retirement playing beach volleyball, surfing, yoga, and playing guitar. He is also looking forward to spending time with his new grandson, Nash.
Ms. Heenen, Spanish 2 teacher here at San Marcos, is moving to San Diego. She explains that her husband got a job after completing his Doctorate in Economics. "I will definitely miss the students the most. They have absolutely changed me and been my light through these difficult years."
Ms. Gavaldon, who Spanish 3 for Heritage Speakers and English 11/12 for Emerging Multilingual Learners, is leaving San Marcos to work a Director of Residence Life position and will be working with both SBCC and UCSB students. She is also learning how to plan and lead luxury events and weddings, which is something that she loves to do.
"I am looking forward to having time to catch my breath and focus on myself, my family, and the many interests I've put on the back burner. I'm excited to see where these new positions might lead me!" She elaborated on how she will miss the students and her colleagues but believe they will be in excellent hands in the future.
Mr. Taylor, who taught Math 2 and 3 for 30 years, will be retiring after this year.
"It is my 30th year of teaching and I am 65 yrs old, so the math involved with my personal finances optimizes this year, which is a fancy way of saying it's the right time. I plan to stay in Santa Barbara, I live in the neighborhood and I absolutely love it here." He also explained that he still loves to teach and is proud of the fact that he is still giving his best efforts.
"I will miss a great many aspects of my work here. I love this location: catching early morning sunrises on campus, seeing the beautiful mountains rising above us, then turning around to watch the clouds and birds sail overhead in the southern sky. I will miss my teacher homies and all the daily problem solving we do together to help students learn mathematics. I will miss the activity and vibrance of the school community with its academic challenges, all the sports, music and art achievements, and witnessing the growth of our young people as they become adults. I will miss the daily interaction between students and mathematics, and the joy of helping someone discover how to overcome an obstacle. Finally, I will miss the daily contact with high school students, and being allowed to share a small portion of their lives and culture. I learn something every day from them. Despite all these things, I have zero regrets about my decision. It truly is the right time for me to say farewell to this job, and I will leave it with a full heart and a tear in my eye."
Mr. Anderson, entrepreneurship teacher, explained that he is leaving San Marcos so he can go back to a small school environment. "I got into teaching to really connect with my students and their families. I've enjoyed my interactions with students and I hope I have made an impact on them in positive ways. To me, school, and life, is learning about how to problem solve and how to get along well socially with others no matter what our differences are. If my students reflect on my interactions with them and remember this then I'm satisfied and content."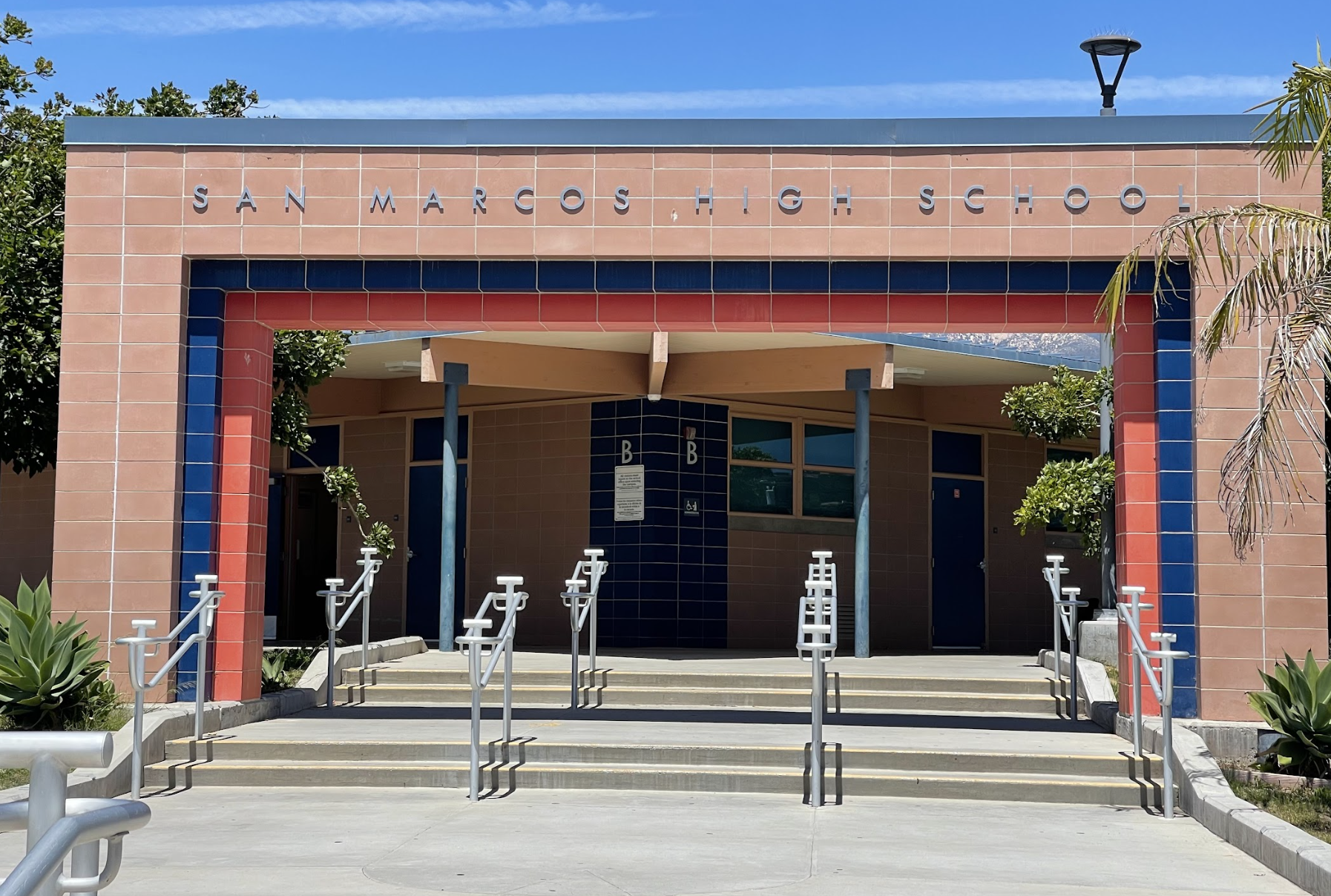 Mr. Laforge, who taught physics here at San Marcos, is leaving our school to teach science at Dos Pueblos.
"I'll be working with a program called Innovate that gives students an alternative to traditional high school that is more focused on their personal interests and needs. I am excited to join the team because I was a part of the team that designed the program over the last four years, and I finally get to do what I've been dreaming of doing." Mr. Laforge elaborated on how he will miss the daily exchanges he has with students in the hallways and will miss his amazing colleagues in the science department and elsewhere.
Mrs. Hernandez, college and career center counselor, is leaving San Marcos to become a junior high counselor. "I have had an amazing experience working as SM and will greatly miss it here.. the students, our CCC TA's, and my daily visitors. Wishing Royals all the success in the world!"
Mr. Devries, economics and entrepreneurship teacher, has already left San Marcos for personal reasons. He will be missed and students here at San Marcos hope for the best.
Mrs. Zender, English teacher, is leaving San Marcos after being a long term sub for Mrs. Bagdanov, to work at Bishop Diego. "Although I wanted to stay at San Marcos, in a nice term of events, I will be going to Bishop Diego which is where my son will be. It's ideal and it all worked out." Mrs. Zender said that she will miss all of her students, and especially the English department along with her colleagues.
Lastly, Mrs. Danielson, Math teacher here at our beloved school, is leaving San Marcos for undisclosed reasons. But, she says that she will truly miss the students the most. She explained that she has taught some amazing students while here at San Marcos. "Thanks for allowing me to be part of the Pride! Remember to preserve, always be true to yourself, and celebrate Pi Day as it deserves to be celebrated! Go Royals!"
It is safe to say that San Marcos is losing a good group of teachers. Each of them will be missed but will always be a part of our school.