Hi, and welcome (or welcome back) to my third round of reviewing books! This month I will be continuing last month's reviews by doing part two of reviewing popular books, again from platforms like TikTok. I have read a handful more popular books than I could fit in last month's reviews so I have a part two. Thank you and I hope you enjoy!!
ALL THE BRIGHT PLACES by Jennifer Niven
Genres: Young Adult Fiction, Romance, Realistic Fiction
All the Bright Places is a story about a boy named Finch and a girl named Violet. When Finch and Violet meet on a ledge at the top of the school bell tower, it's not clear who ends up saving who. But when the two of them pair up on a project together, they find out things about themselves and each other that neither ever knew.
For All the Bright Places, I really did not know it was all that popular until after I had started reading it and recognized that there were lots of positive reviews of the book almost everywhere. I liked how the book was not really slow at all- it jumped right into the story and plot from the first sentence. With all the character's emotions unraveling in the first chapter, it was really interesting to read! I really loved how the characters met and how their relationship with each other developed, and how the emotions of the characters really played a part in affecting how the characters acted and made decisions because it made them feel all the more real. I also really enjoyed how the characters (who felt outcasted by others) really felt at home with each other. While I cannot say much more about the book without spoiling it, I loved the ending and I loved this book.
Rating: 10/10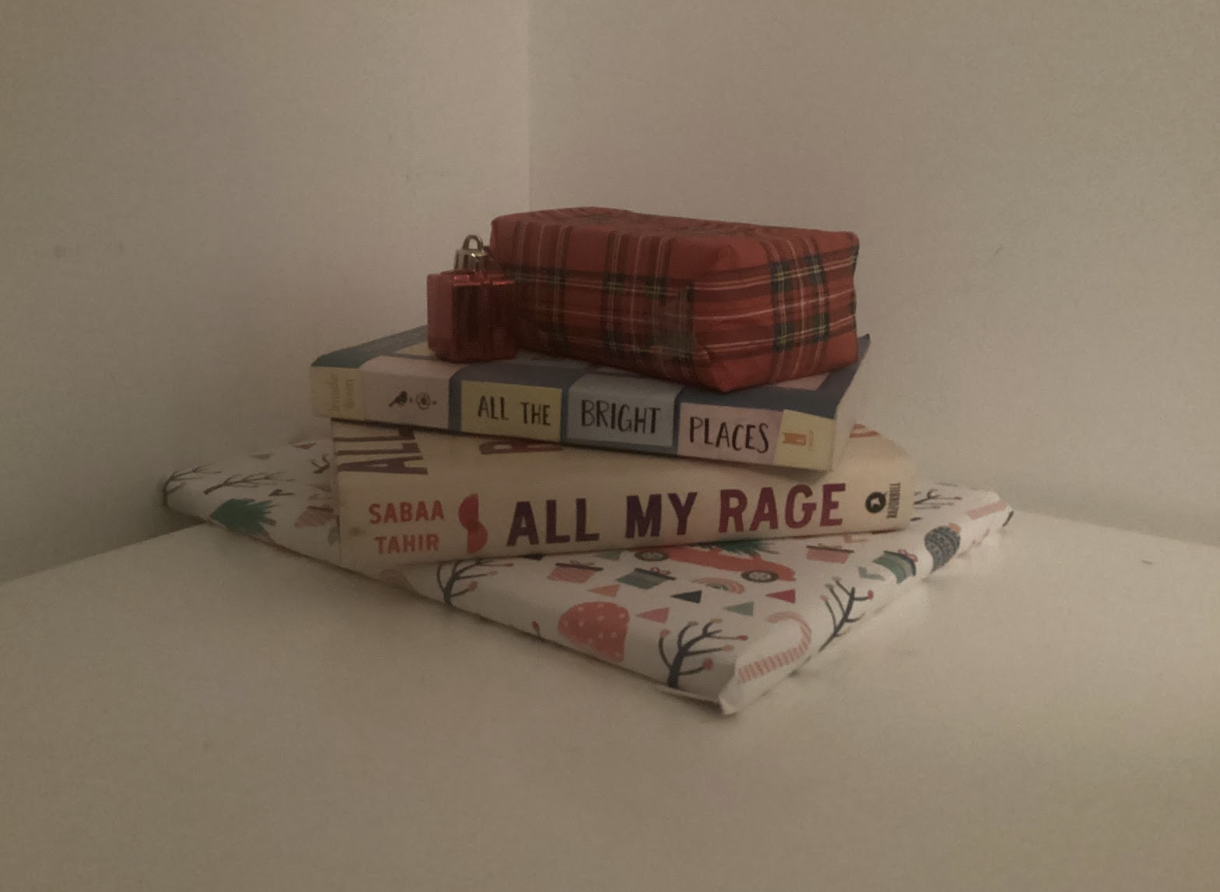 ALL MY RAGE by Sabaa Tahir
Genres: Realistic Fiction, Family, History
Lahore, Pakistan. Then:Misbah is a bright girl and a dreamer, newly married in an arranged marriage between her and her husband. But when tragedy strikes, the duo moves to the United States in hopes of a new start for them.
Juniper, California. Now:Salahudin and Noor are best friends, nearly family, at this point in life. They have seen each other through so much and understand each other as no other person does. That is, until The Fight, which shatters their friendship and pulls the duo apart.
But when things start to fall apart with both of them, family problems among all else, the friends must ask themselves what their friendship is worth and work together to fight back against their problems.
I randomly saw the book in a popular book section in a bookstore I was at, and decided that it would be an interesting book to read. It is safe to say that I really liked this book and that I really liked how the characters were portrayed— all three of the main characters included. I also liked how the book jumped between different perspectives, between the two characters "now" and the main character, Misbah, in the past. I liked how it switched from character to character in their very real-seeming challenges, even though the characters are fake. I really liked how the author captured emotions— especially more negative ones, like grief, sadness, and heartbreak. All in all, I really enjoyed the book, the characters, and the ending was very nice as well.
Rating: 9/10
—
SHATTER ME by Tahereh Mafi
Genres: Young Adult Fiction, Romance, Dystopian, Science Fiction
Juliette is a girl in a dystopian world— but there's a catch: she has a power that paralyzes, and even kills. She's been locked away from the world..but why?
Shatter Me is book one out of eleven other books in the series of which, I have only read this one. I was suggested to read it by a friend of mine who loaned it to me. At first, I really liked the book and the setting in which the book took place and originally I liked how the plot started out, and the backstory was nice. But as the book progressed, I found that I did not enjoy this book. Though it was said to be dystopian, it was really more of a romance novel than it was described to be. Secondly, the main character, Juliette, has a power that is never fully explained. Lastly, I did not like the overuse of metaphors, and the writing style made it overall hard to understand and read.
Rating: 6/10
Thank you so much for reading this book review! I hope you enjoyed it and I hope this encourages you to try and read a book or two. I hope you have a fantastic winter break, and I hope to see you all next month.