There is no doubt that January has been an eventful month to start off the New Year. From the insurrection at the Capitol to Joe Biden and Kamala Harris's inauguration, history has been made. Although there have been many notable occurrences so far this year, there have been five events of particular significance that will without a doubt go down in U.S. history.
The Insurrection
On January 6, 2021, an event that shook the entire nation and revealed the fragility of democracy took place. For the first time in U.S. history, the Capitol Building was overtaken by a group of Americans. After many false claims by former President Donald Trump of a "rigged" and "stolen" election, a crowd of his supporters showed up at the "people's house" to protest for his imagined victory, hoping to delay congress's certification of the election results. The crowd soon started assaulting police officers and eventually entered the capitol building. Some of the rioters could be seen ransacking the offices of various Congressmen and Congresswomen, overtaking the senate chamber, defacing statues, and even waving Confederate flags while the congress people hid in lower levels of the building.
"Seeing the large amount of people gathered at the capitol was extremely shocking to me, especially since COVID-19 is still spreading throughout the country," said freshman Itzel Cruz Meza. "Overall, I just felt an overwhelming disappointment towards our nation's society."
By the time the police were able to clear out the mob, one police officer had been beaten to death by the crowd, one rioter was shot by a police officer as she entered the capitol, three other rioters died of "medical emergencies", and at least 60 others were injured. This attack on democracy became the second time in history when the U.S. Capitol was overtaken, the first time being in 1814 when British forces set the capitol aflame during the War of 1812. Although there have been many violent occurrences at the capitol, none have ever happened in order to overturn election results, and this is the first time when Americans have been behind the attack.
The First President to be Impeached for a Second Time
Donald Trump became the first U.S. president to be impeached twice this January. Only two other U.S. presidents have ever been impeached: Andrew Johnson in 1868, and Bill Clinton in 1998. President Trump's second impeachment was initiated for "inciting violence against the government of the United States", after telling his supporters to protest and "fight" for the election he falsely claimed was stolen. Some Republicans defended the former president, arguing that it was the fault of the rioters, and they alone should be punished. Other house Republicans condemned President Trump's actions but claimed that an impeachment so soon before President Biden's inauguration was not the best decision and would only feed the flames of partisan division. However, with many Democrats pushing to have him impeached before the inauguration, articles of impeachment were drafted in a mere seven days. In Andrew Johnson's trial, no one from his party voted in favor of his impeachment, in Bill Clinton's trial only five Democrats voted against him and in President Trump's 2019 house trial, no Republicans voted for his impeachment. However, in his 2021 trial, not only did all the house Democrats vote for President Trump's impeachment but so did 10 Republicans, making it the most bipartisan impeachment vote ever.
The Inauguration
Like many other notable events of the past couple of months, the inauguration of Joseph R. Biden was unlike any other the U.S. has seen. For starters, it was the first inauguration in over 150 years where the sitting president was not in attendance. Former President Donald Trump announced on Twitter that "I will not be going to the Inauguration on January 20th." That makes him the 4th president to skip the inauguration, the other three being John Adams, John Quincy Adams, and Andrew Johnson. Despite Mr. Trump's absence, his Vice President Mike Pence was there to watch President Biden and Vice President Harris take office. Another unusual part of the inauguration was the security. Although inaugurations are always heavily guarded, this time around the whole area was on lockdown, and not only because of COVID-19. No citizens were allowed on the National Mall, and there were thousands of law enforcement officers and National Guardsmen and women there to ensure the safety of the incoming president following the attack on the capitol. "There are going to be more troops there than spectators for the inauguration," said Jim Bendat, a presidential inauguration historian. Then there was Amanda Gorman, who recited her beautiful poem "The Hill We Climb", and who became the youngest inaugural poet at age 22. Additionally, Joe Biden became the oldest person to be sworn in as U.S. president, at the age of 78. Lastly, as expected, COVID-19 had an inevitable effect on the historic ceremony. With a surge of cases in the U.S., many precautions were taken to ensure that no one would contract the virus. Congress people were only allowed one guest at the inauguration, everyone was wearing masks, and on the National Mall where people should have been, there were flags. The traditional parade along Pennsylvania Avenue after the ceremony did not occur either, and instead there were virtual celebrations.
The First Woman and Woman Of Color Vice President
The most groundbreaking part of this January's inauguration was that Kamala Harris became not only the first woman, but the first woman of color to become the Vice President of the United States. This milestone in U.S. history is the result of the ongoing fight for equality for women and people of color in America, with her inauguration happening just over 100 years after women were first granted their right to vote. Kamala Harris, the daughter of two immigrants, grew up in Oakland California. With a Jamaican father and an Indian mother, she is no stranger to racism and throughout her political career she has been a voice for people of color in California and across the nation. After her graduation from Howard University, she attended UC Hastings College of Law. She then started off her career in the Alameda County District Attorney's office, and after many years of political experience she was elected to be a senator for California in 2016. Her election to office made her the second African-American woman to be a senator. She also ran for president in 2020 in the Democratic primaries, and although she did not win the nomination, she was selected by Joe Biden to be his running mate. This choice came after Mr. Biden promised to choose a woman to be his Vice President, and after pressure to choose an African-American to increase his popularity among Black voters and show his commitment to racial justice. With immense support from African-Americans and other people of color across the country, Joe Biden and Kamala Harris were elected and inaugurated. For many women and people of color in America. This historical milestone symbolizes a new era and shows that our society is working towards racial and gender equality.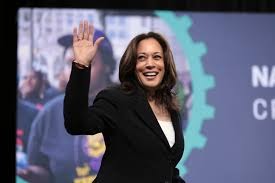 "Being raised by immigrant parents in a predominantly white area, I was always made to feel incompetent and alienated for my skin color and ubpringing," San Marcos Freshman Class President Kavya Suresh said. "I think the Vice President's election is a sign to everyone in America that our community is changing to become more inclusive and welcoming of people of all identities, and this makes me extremely proud to see."
The First African-American Secretary of Defense
Vice President Harris wasn't the only one to make history by taking office. This January, Lloyd Austin, appointed by President Biden, became the first African-American Secretary of Defense in U.S. history. Mr. Austin graduated from the United States Military Academy, and has had a lasting career in the military. However, becoming Secretary of Defense is not the only time he has been the first African-American to take on a high ranking job in the military. For example, in 2013 he became the first black commander of the United States Central Command. After 41 years in the military, Mr. Austin retired as a well-respected four star general in 2016. Then towards the end of 2020 he was selected by President Biden to become Secretary of Defense. Although he needed a congressional waiver due to the National Security Act of 1947, which stated that in order to become the secretary of defense the person appointed would have to have a 7 year waiting period after being in active service, exceptions were made and he was approved by Congress. On January 22, 2021, he was sworn in by Vice President Kamala Harris and officially took office. His historical inauguration inspired many people of color throughout the nation and in the military. Although 43% of the men and women in active duty are people of color, the military leadership fails to reflect that diversity. To have Mr. Austin as Secretary of Defense breaks racial barriers and is a step towards a more ethnically and racially varied government.
Overall, with more people of color in high ranking government positions, but an ongoing partisan divide, the American political landscape is always changing. Considering everything that has happened just within the past couple of weeks, many are wondering what the rest of the year has in store for us— what history is yet to be made.