Around one year ago, most of us were beginning to notice that COVID-19 seemed much more than merely a bad cold. There has been a great change since March 13th 2020, as we come up on one year since COVID-19 was declared a public health emergency in the United States, and schools worldwide shut down. With the closing of thousands of schools, most of them switched to an online school alternative. Students did school from home, using technology such as Zoom. Online school was just one of the major lifestyle changes that came along with the COVID-19 pandemic. Now, almost exactly a year later, schools including San Marcos are slowly starting to look at the possibility of reopening.
COVID-19 was first identified in Wuhan, China in December 2019. Most experts believe that the disease started in animals, most likely bats, however this is not known for sure. Research is still being conducted in Wuhan today to discover the exact cause of the virus and where it originated. Some scientists predicted that an animal that had the virus was sold at a food market in Wuhan, and it was eaten by a person who then contracted the virus and spread it to others. The first cases started appearing in Wuhan from December to January. Many doctors first believed it was a phenomena related disease. The WHO (World Health Organization) first acknowledged the virus and announced its presence to the media on January 9th. Following this, the first cases started to appear in other Asian countries including Thailand and Japan. This caused the CDC to have the United States begin Coronavirus screening at some of their major airports, and eventually, a travel ban was placed on the U.S. Still, the first Coronavirus case in the U.S was recorded on January 21st, 2020, in Washington state, from a person who had recently returned from Wuhan, China. By the end of February, the Coronavirus was on its way to becoming a pandemic. On March 11th, the pandemic was declared by WHO, and by March 13th, the president declared COVID-19 a public health emergency in the US. Also on March 13th, thousands of schools in America closed down, set to return back in just three weeks.
This three week goal started to seem unrealistic when a mandatory stay-at-home order was placed in California on March 19th. So, people had no choice but to start adapting to life with the pandemic. Throughout the year 2020, schools switched to Zoom, people quarantined, socially distanced themselves, and began wearing masks. Cases spiked around the holidays such as Christmas and Thanksgiving. The US reported a record on July 16th, of 75,600 new cases in one day. Research was constantly taking place as scientists were discovering more things about COVID-19 every day, like how it can be transmitted, tested, what the symptoms were, and the recovery. It was known by many that things would get worse before they would get better, which turned out to be true.
Not only was March 13th the day that COVID-19 was declared a public health emergency in the United States, but it was also the last day that SB Unified students went to school in person. There was an announcement made on this day that school would be shutting down for three weeks, and opening again in early April. Most students received this message by text, while school was still in session. As students did not return back to real school, the return back date kept getting pushed back further and further, until it was starting to look like the 2019-2020 school year would be completed online. Many students see March 13th as a memorable day in their school lives, and remember exactly what they were doing and feeling when they heard the announcement.
"I was in my marketing class when and I remember getting the text about school closing. I started to panic because I thought I was going to have to retake my AP classes or that I was going to fall behind" said junior Devyn Wong. Many AP students were concerned about how they would still be able to get credit for the classes they were taking. However, as it would turn out, thousands of AP students took their exams from home.
"When I found out school was closing I was in my chemistry classroom at royal time with some friends. We thought that we would get through finals week and then schools would close after spring break. It came as a shock and we were all jumping up and down because we were so happy to get a break and skip finals" said junior Mia Canizzaro. Many students were excited at first when the shut down was announced, as many believed it would lead to an extended Spring break.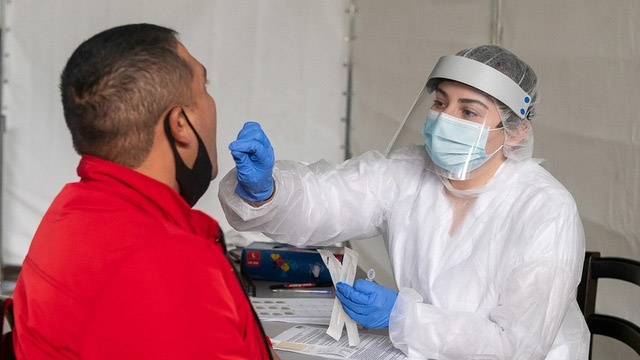 "My first reaction was does that mean I don't have to take my psychology midterm that I was unprepared for? They originally said three weeks, but I thought it would be longer because it seemed like the cases were only going up" said junior Colin Earls. As many students would soon find out, their break from school would last much longer than 3 weeks.
The lives of billions of people have been drastically changed by COVID-19, and the future still holds much uncertainty. It has been a year of adapting to living in a pandemic, through doing online school, quarantines, and wearing masks. San Marcos is now getting closer than ever to returning back to in person school, almost exactly a year after the last day on March 13th, 2020. Several students are planning on returning to campus on a hybrid schedule of both online and in-person classes. Students would come back in cohorts, in order to be as safe as possible when returning to school. Though this still would not be exactly the same as school before the pandemic, it would be a step forward to returning to normal life.