On July 30,2020 in the midst of the COVID-19 pandemic, a United Launch Alliance's powerful Atlas V rocket took off from Space Launch Complex 41 in Cape Canaveral, Florida. It's payload: the 2,263 pound Mars Rover, branded Perseverance. The Jet Propulsion Laboratory's fifth rover to be sent to Mars began it's nearly 300 million mile journey to the surface of the Red Planet, with it's seven month journey ending with a successful landing on February 18th, 2021. In another fantastic show of NASA's technological capability, the landing of Perseverance not only will allow for scientific discovery, but also can help to set the stage for the United States plans to get humans on Mars.
"This landing is one of those pivotal moments for NASA, the United States, and space exploration globally – when we know we are on the cusp of discovery and sharpening our pencils, so to speak, to rewrite the textbooks," said NASA Administrator Steve Jurczyk.
The Perseverance rover project has been worked on for years following the launch and landing of the Curiosity rover in 2012. Perseverance now begins its mission to help look for evidence of past life on Mars and also see the possibility for Mars to be habitable for future human expeditions.
Perseverance's landing in the Jezero Crater, which is a 28 mile wide ancient river delta, brought great anxiety to the Entry, Landing, Descent (EDL) team at JPL. Statistically, about 40% of missions to the Martian surface are successful as the vehicle has to survive the "Seven Minutes of Terror" as it descends into the martian atmosphere. Due to delays in radio communication, the landing is done autonomously with hundreds of thousands of lines in code. Perseverance's landing consisted of technology such as Terrain-Relative Navigation and a range trigger, in addition to descent cameras. Ten minutes before Perseverance started its descent it separated from its cruise stage, before entering the atmosphere and experiencing temperatures of up to 2,370 ℉ according to NASA.gov. Once through the atmosphere, its parachute deployed, followed by heat shield separation, and use of radar and terrain-relative navigation. The backshell was then released and the craft began its powered descent on a "skycrane" before Perseverance safely touched down to the joy and relief of the JPL team.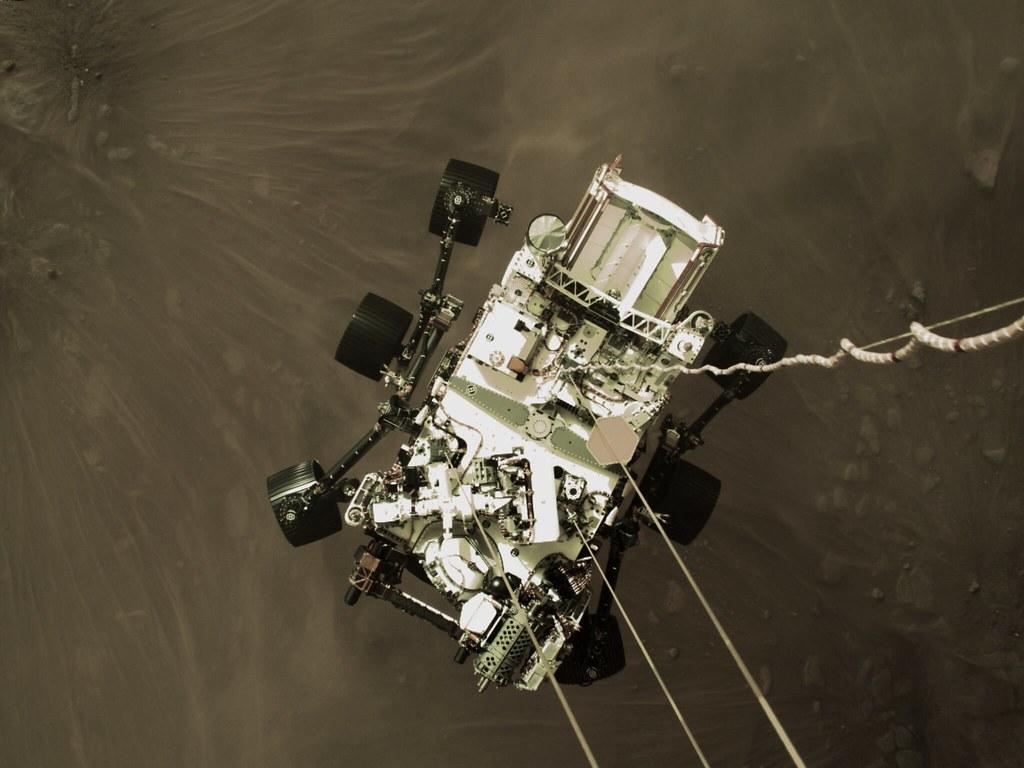 The rover is a laboratory and is referred to by NASA as an "robotic astrobiologist." Some of the tools and technologies that it will be utilizing is converting carbon dioxide into oxygen using a MOXIE instrument, analyzing rocks and soil samples for signs of ancient microorganisms, and even depositing samples that NASA plans on picking up and returning to Earth for study. This project, which will require even more technological advancements, is slated to occur around 2030. Perseverance is also holding special cargo in the form of a small helicopter that has been named Ingenuity. This autonomous helicopter will perform the first controlled flight on another planet and according to Nasa.gov, the JPL team plans on Ingenuity partaking in five flights reaching altitudes of about 3 to 5 meters. The duration of Perserverance's mission is set to be around two years.
"While we'll learn a lot with the great instruments we have aboard the rover, it may very well require the far more capable laboratories and instruments back here on Earth to tell us whether our samples carry evidence that Mars once harbored life" said Planetary Science Division Director, Lori Glaze.
The success of the Perseverance rover, not only sets the stage for a plethora of experiments in attempt to verify ancient martian life, but also allows for the possibility of future human explorations. As NASA looks to deliver humans to the Moon in the form of the Artemis program in 2024, they have also set their sights on Mars. The great technological achievement of landing rovers and collecting data, makes ensuing missions possible and through the hard work and commitment to subsequent NASA programs, these fantastic missions seem possible in the near future.