As many of us know, autumn begins in the month of September. In this season, many people crave coffee or a hot chocolate with a quick and easy dessert. I have chosen two easy and delicious recipes to share with you. The first is carrot muffins and the second is cinnamon cookies called snickerdoodles.
Carrot Muffins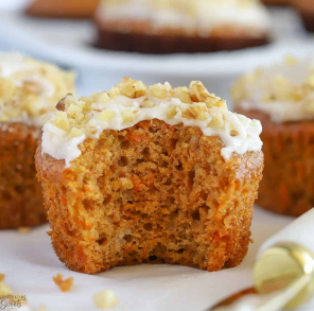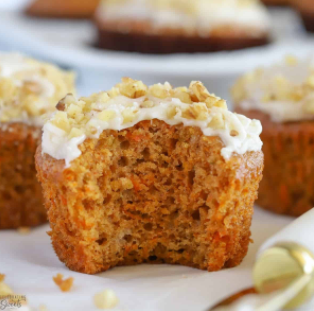 Ingredients
4 grated carrots
3 eggs
1/3 cup milk
2 cups of sugar
1 1/2 cup oil
1/2 cup of raisins
3 cups of flour
1 teaspoon baking powder
1 teaspoon cinnamon
1/2 teaspoon salt
1 cup of vanilla frosting
Directions
Preheat the oven to 350ºF.
Mix the grated carrots with the egg, milk, sugar, oil and raisins in a bowl.
In another bowl, mix the flour, baking powder, cinnamon and salt.
Join the two mixtures and fill the cupcake molds to three quarters.
Bake for 30 minutes at 350ºF.
Finish with a little vanilla frosting
Snickerdoodles
Ingredients
1 ½ cups sugar
½ cup butter, melted
2 eggs (room temperature)
2 ¾ cups all-purpose flour
2 teaspoons cream of tartar
1 teaspoon of baking soda
¼ teaspoon salt
¼ cup sugar
2 teaspoons ground cinnamon
Directions
Heat oven to 400 ° F.
Combine 1½ cups of sugar, butter, and eggs in a large bowl.
Add the flour, cream of tartar, baking soda, and salt.
Roll into ¼ inch balls.
Mix 1/4 cup of the sugar and the cinnamon.
Sprinkle the cookies in the cinnamon and sugar mixture.
Place cookies 2 inches apart on an ungreased cookie sheet.
Bake 8-10 minutes or until done (no more than 13 minutes).
Remove from cookie sheet and place on a wire rack.
The easiest of these two recipes are carrot muffins because the cookies can taste bitter for a few reasons. For one, the butter has to be at room temperature. Secondly, for the cinnamon, you have to be sure that you put the exact measurement of cinnamon. And third, because of the baking soda, I recommend that you buy a new box and also that you do not substitute any ingredient. If you want to substitute something in the recipe for carrot muffins, substitute the vanilla bitumen and add icing sugar. I hope you make one of these two recipes and start your fall with a little sweetness.
---