Lifestyle is the way in which a person or group live, and the King's Page has been covering our community, country and world of its topic. In the 2022 year, fashion has run its course in its unpredictable ways with its lavish events, runways and of-on-gaurd styling. We have also seen an abundance to mental and physical health and awareness. As we are leaving 2022 we reflect in its year, and look forward to 2023. Go Royals!
–Lifestyle Editor, Olivia Marceda
---
THE MET GALA: 2022 REVIEW AND 2023 PREDICTIONS
Held at the Metropolitan Museum of Art in New York City, the Met Gala is known to be the most exclusive night in fashion. Celebrities pay approximately $35,000 to attend this invite-only event. The annual ball is held the first Monday of May, to fundraise for the benefit of the Metropolitan Museum of Art's Costume Institute in New York City.
The theme of the 2022 gala was "Gilded Glamour," in reference to the Gilded Age in NY, a transformative era in American history spanning from 1870 to 1890. While this theme left ample room for interpretation, critics were left disappointed by some celebrities' disregard of the theme entirely.
However, many celebrities encapsulated the theme perfectly. Popular styles included structured bodices and corsets, full skirts, cage-style skirt bustles, long coats, and popped collars. A variety of jewels, diamonds, and glitz also were a notable contributor to the well-executed Gilded Glamour looks. Some of the most head turning looks were Cardi B's bedazzled Atelier Versace gown, as well as Sarah Jessica Parker's feathered top hat. One of my personal favorites was Gigi Hadid's deep red catsuit with an extravagant puffy coat, as well as Dove Cameron's angelic and futuristic Iris Van Herpen gown.
While Harry Styles, Rihanna, and Timothee Chalemet's absences let down some, the 2022's gala attendee additions made up for it. For the first time, all five Kardashian-Jenner sisters walked the red carpet. Kylie paid tribute to Off-White's late designer Virgil, Kourtney and Travis Barker were twinning in Thom Browne, while Kim made Met Gala history in Marilyn Monroe's original "Happy Birthday, Mr. President" gold number. Celebrities like Emma Chamberlain, Phoebe Bridgers, Gunna, and Austin Butler made their first Met appearance in 2022, and hopefully not their last.
Looking ahead, the theme for the 2023 Met Gala is "Karl Lagerfeld: A Line of Beauty." This theme honors one of fashion's most well known designers, who is best known for transforming Chanel into one of the most influential brands. He was a regular attendee at
The Metropolitan Museum of Art Costume Institute. I expect the upcoming met's looks to pay tribute to this icon by imitating Lagerfeld' designs and personal style.
---
2023 Culture Predictions
SAM HANRAHAN
Staff Writer
The new year brings in new goals, new classes (soon), and new celebrity drama to focus on instead of homework. I have compiled a list of predictions for 2023, and hopefully the new year will live up to these high expectations!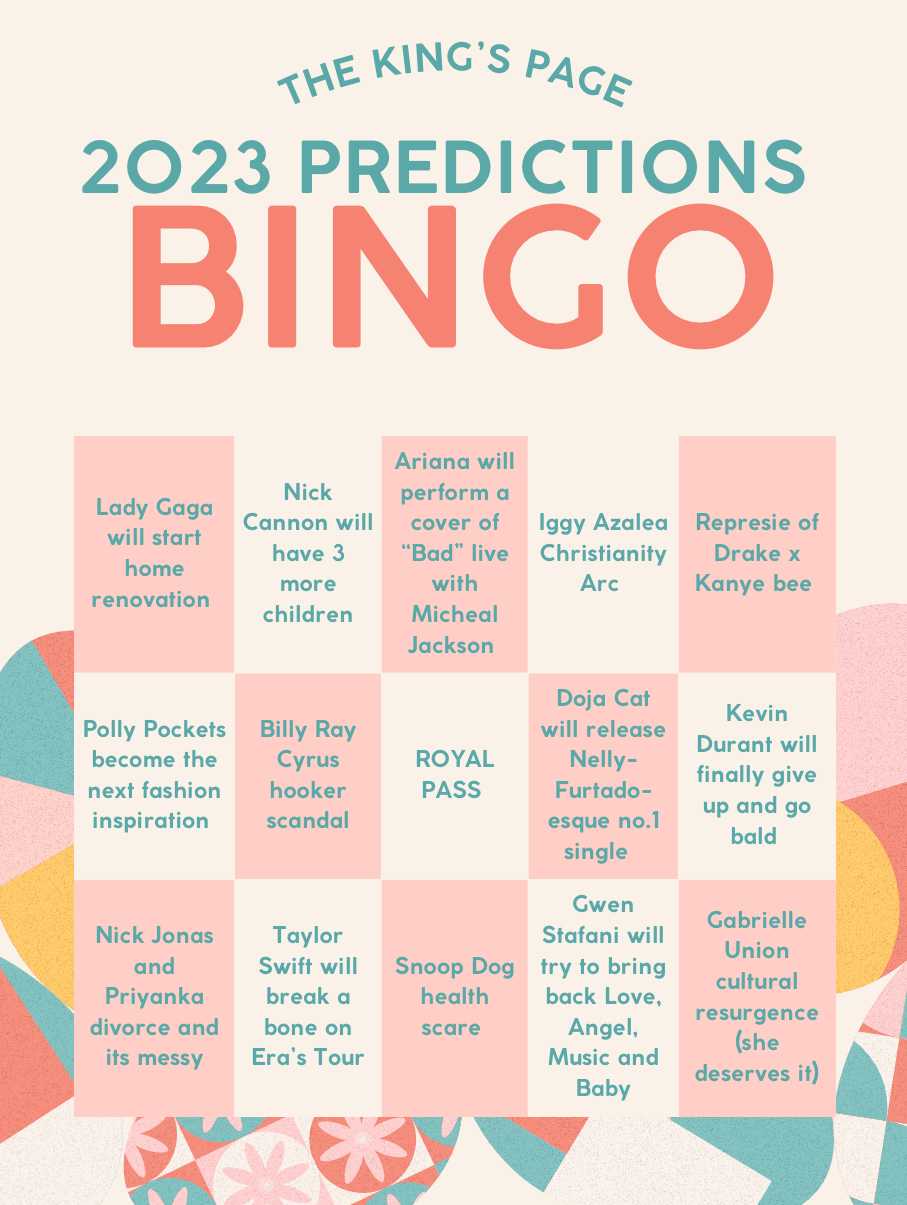 Nick Cannon will have 3 more children in 2023 (1 in july and 2 in october)
Ariana Grande will perform a cover of "Bad" live with the Michael Jackson hologram at the VMA's
Lady Gaga will start a home renovation/interior design show
Iggy Azalea Christianity arc
Snoop Dogg health scare
Reprise of Drake x Kanye beef
Polly Pockets become the next fashion inspo/microtrend
Billy Ray Cyrus hooker scandal
Doja Cat will release a Nelly-Furtado-esque single that will stay no.1 on the charts for 8 weeks
Kevin Durant will finally give up and go bald
Gabrielle Union cultural resurgence (she deserves it)
Nick Jonas and Priyanka divorce and it's MESSY
Taylor Swift will break a bone (arm/leg) while on tour, and will continue to perform, with casts that match her outfits.
Gwen Stafani will try and bring back Love, Angel, Music, and Baby, but will face intense backlash and she will be dragged for her life on twitter
While most of these probably won't come true (except for the Nick Cannon one), I am sure that the scandals that do break will be just as outlandish.