The San Marcos Vocal Music Department is putting on their fall choir concert, Earth, Wind, and Choir, on Thursday October 12th. This is the first concert of the year for the Vocal Department and it will be a night to remember. With four ensembles performing various genres of songs and a finale, this will have the audience up and out of their seats dancing. This is an event that you do not want to miss!
The theme of the concert is the three elements, Earth, Wind, and Fire. Songs will be performed about each element, all different from one another. While many pieces will be more gentle and soothing, others will be more intense and lively. Some choral groups will feature only soprano and alto voices, while other groups will include tenor and bass voices as well. Every ensemble will bring something impressive to the stage, in their own unique way. 
One of the groups performing is Girls Chorus. Girls Chorus happens during period one, and is the very first class you take as a female singer joining the Vocal Music Program at San Marcos. This class offers girls so many opportunities to make new friends and create strong bonds with one another. A majority of them carry these friendships into the next semester, where they will sing in the Enchanté choir. For many girls, it is their first time performing in a choir, so it can be intimidating. Nevertheless, Girls Chorus always delivers a beautiful performance at every concert, as they grow so much as singers and performers throughout the semester. 
Another group that will be featured in the concert is A Capella. This year, thirty-seven students are enrolled in A Capella and they spend their second period singing, laughing, and learning to work as a group. A Capella produces powerful sounds in each song that they perform, because they are a group made up of male and female students. With so many voices being blended together, the songs they perform are truly amazing. 
"My experience so far in A Capella has been really great. Everyone is always very encouraging and if you ever need a helping hand, one will be given to you," said SM sophomore and A Capella member Reagan Conway. 
For the concert, A Capella is singing four pieces as a group and one piece combined with Madrigals, as well as the big group number with all of the choir groups. Some of the pieces have been challenging to learn, but students have stepped it up and worked hard from the first day they walked into the choir room. A Capella is a very talented group of singers and is going to leave audience members watching with their eyes and mouths wide open.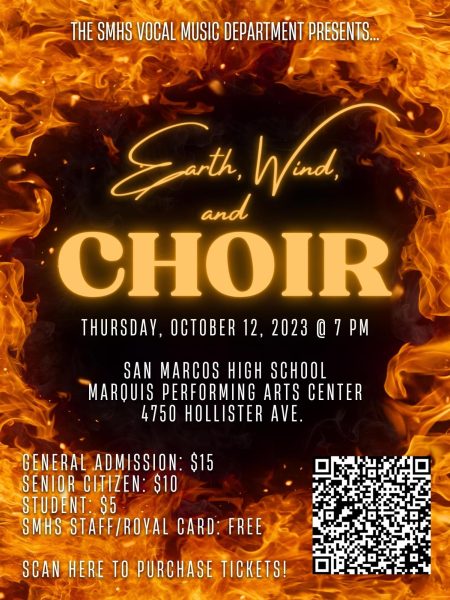 Royal Knights are also performing on Thursday. Practicing during Royal time, all students that sing tenor or bass in the vocal music program are invited to sing in this ensemble. The pieces that Royal Knights perform are usually unique compared to pieces that other ensembles sing, and they are certainly entertaining. The rehearsal time for them is usually very short, as they only have two 35 minute periods a week. Despite this, they are able to work as a group to create a wonderful performance time and time again. The Royal Knights group is a definite crowd-pleaser, and they love to perform together!
Finally, the Madrigals choir will be sharing their glorious melodies and harmonies at the concert, filling the auditorium with sounds that echo past the lobby doors and all throughout the school. Madrigals, otherwise known by everybody in the vocal department as Mads, is the most advanced choral group at San Marcos. This group is made up of magnificent singers and dedicated musicians that are committed to their craft. Mads are very well known around campus for producing magical sounds that you can hear from various locations during third period. They have a stunning set of pieces to perform for the concert. 
"Concerts like our annual fall concert are one of my favorite types of Mads events. It is always so exciting to see what the other choirs have been working on and get to appreciate everyone's hard work. Not only that, but they are very important for fundraising our competitions and events," said senior and Mads member Allison Ray. 
The Vocal Music Department is attending various competitions this year, one of which is out of state. The full price of every student that comes on the trip is not a low one, which means the department needs all of the fundraising they can get. If you decide to come to the fall choir concert and other concerts that are put on throughout the year, you will be contributing towards vocal groups being able to go on these trips and having once in a lifetime experiences that they will never forget. Going to SMHS choir concerts will not only benefit you and bless your ears with wondrous sounds, but it will also benefit so many passionate students who are receiving unbelievable opportunities through the vocal department. 
Earth, Wind, and Choir begins at seven p.m. in the school's auditorium. Tickets are available on GoFan now, and are selling quickly, so get them as soon as possible. It is going to be an unbelievable night full of music and talent and it is not something that you want to miss out on!