A big welcome to our new superintendent Hilda Maldonado! Before coming to work for SB Unified, Ms. Maldanado was in charge of the Multilingual and Multicultural Education Department for the Los Angeles school district. This is a major change as the LA school district is significantly larger than ours. However, our school board is very confident that she is the perfect person for the job.
"The experience and skills that Ms. Maldonado brings to this process and her having worked in one the largest, most diverse school districts in our state is a great asset to the District," said school board member Wendy Sims-Moten. "Ms Maldonado was the one for me because she is student-centered, community-minded, innovative and has a can do attitude." That is very high-praise, so Ms. Maldonado is most definitely up to par.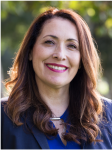 Member of the school board, Kate Ford shared a fun fact about Ms. Maldonado during our interview.
"[She] grew up on a dairy farm, and she and her two brothers helped their father get the cows into the milking machine every day, and on cold mornings, she really liked this chore because she had to walk (in her boots!) in cow dung and it was sooo warm!" She is definitely a hard worker, that's for sure. Another fun fact is that Ms. Maldonado has actually already visited San Marcos. She dropped in on the first day of school. Maybe we'll see her around later in the year when we're back in person.
Our principal Dr. Glazer also had some kind things to say about the new superintendent. "She invited all Principals to a meeting where she shared that being a school Principal was her favorite job in her entire career. I found her to be warm, friendly, and supportive," said San Marcos Principal Dr. Glazer, "She asked what we needed and assured all our staff that she would work to get what we need." From what we've heard from the staff, Ms. Maldonado is going to be a great addition to our school district, and will be very devoted to helping everyone.