Due to Covid-19, professional teams have come up with alternative crowds in effort to recreate the traditional crowd experience. In the current professional sports seasons, we have seen leagues such as the NBA and MLB come up with new methods in the midst of Covid-19 use their creativity to make an interactive crowd of fans.
The Major League Baseball teams have come up with a unique and somewhat humorous way of incorporating their fans back into the game. The Seattle Mariners were one of the first teams to announce plans for cutouts, after seeing European soccer players get creative in their own arenas. These cutouts are large head shaped pictures fans purchased to be placed in a designated seat. It took a couple months of work for the MLB to get everyone on the same page, but now these cutouts have been incredibly successful. According to dodgersnation.com, The Los Angeles Dodgers sold over 8,500 cutouts, raising near $1.5 million dollars for the Los Angeles Dodgers Foundation. This foundation currently donates to local COVID-19 relief and social justice efforts. We have seen many celebrities participate, including Tom Hanks, whose cardboard head was spotted in the Oakland A's Coliseum. Many fans have gotten so involved they have ordered cutouts of their dogs to be featured in the stands!
The NBA took a different approach. To accommodate Covid-19 restrictions, games are taking place in a "bubble" in Orlando, Florida. Rather than in person cutouts or fans, they have an audience live online. Not only can these fans be seen on a large screen next to the court for the players to see, but can be seen on live television. These fans register online and are also selected by the teams by being a "most loyal follower."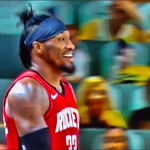 Sara Zuchert, head of the leagues' Next Generation Telecasts, said in an interview, "We're just looking forward to having more fans, more names and expanding on this. Being able to have cheers and fans reacting is so much a part of our sport. There's really nothing we can do to replace being in an NBA arena, but we want to replicate as much as possible given the current situation."
"The crowd is what makes the sport exciting," said sophomore student and Girls Varsity Basketball player Michelle Arellanas. "But I think they came up with the best possible alternative by showing peoples' faces since it makes watching basketball at home more interactive and makes it seem somewhat normal."
San Marcos athletic director Abe Jahadhmy has been keeping up with professional sports and has noticed how leagues have altered their audiences during covid. When asked his opinion on the live audience in the NBA, he replied, "I think that live sports have helped with a sense of normalcy and has brought joy to many people at this time."
Many of us probably agree with Zuchert, Michelle, and Jahadhmy. During this time of social distancing, it can be difficult to create normalcy in our everyday lives. However, professional sports leagues have used their creativity in positive ways to incorporate their fans into current basketball and baseball seasons. The fanbase of teams love to get involved with the players and sports community and the NBA and MLB did a great job with doing so.