2,571. 2,571 books. That is the number of books banned in the year 2023 alone. Banned Books Week, happening from October 1-7, is about celebrating the freedom we have to read. According to the American Library Association's Office of Intellectual Freedom books are banned or censored for three main reasons; they are sexually explicit, contain offensive language, or are "unsuited for any age group,"(ALA). The last one is difficult to regulate due to many people's different views on certain books.
"Any book that gets popular and that people like, somebody else is going to not like it and not want others to read it," said San Marcos librarian, Ms. McMillan.
Ever since COVID, there have been more banned or challenged books. In 2017, there were about 400 challenged books. This year that number has risen to around 5,906. In order to ban a book, a person (ie. parent, board member, etc.) must make a complaint about a book and the ALA (American Library Association) uses their policies to decide whether or not that book should be banned. According to the ALA, nine out of ten cases deny the book from being banned.
"I think that [banning books] is really bad, considering it's not only happening constantly, but that it just gets overlooked," said sophomore Anna Jacobsen.
As stated before, most books get challenged or banned due to being sexually explicit, having offensive language or generally being "unsuited for any age group." For example, Thirteen Reasons Why by Jay Asher is a beloved book but also a banned one due to the talk of rape,bullying, and suicide. There are other reasons why books are banned, such as the inclusion of LGBTQ+ characters, religious viewpoints, racism, etc. Over half of the U.S. has banned books including Florida, Missouri, Utah, Texas, and more.
Speaking of Florida, 21 of their school districts have been removing roughly 300 books from their libraries since 2022. Florida is the state with the second most banned books, the first being Texas. 
"[The] sad thing is that of the books that are challenged across the U.S., 5 out of 10 of the most challenged books have LGBTQ+ characters. Half of them," said  Ms. McMillan.
During Banned Books week at San Marcos, many banned books were displayed in the library, such as The Hate You Give, The Fault in Our Stars, Thirteen Reasons Why, and more. The library challenged students to come to the library and read a banned book. Readers also had the opportunity to leave a post-it note on the board explaining why others should read banned books.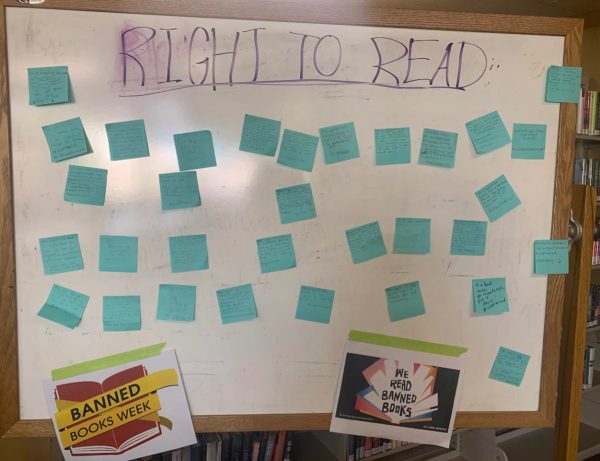 We should be grateful for the freedom we have in the library because as time goes on, more and more books are being banned throughout the states. There are so many controversial issues talked about in books, but instead of banning them, we should revel in them. We should not be afraid of reading something new. If we do not like it, there is always something else to read.
"Not every book is for everybody, but the library is for everybody," said Ms. McMillan.