Five Natural Hidden Gems in Santa Barbara
Any of us who are living in or close to our beautiful Santa Barbara have likely experienced more natural beauty than 90% of the world. 
David Lossue, a naturalist and local from Santa Barbara recently explained, "My favorite hike has got to be Seven Falls. It's so natural and it just feels like a healing place." 
Living in Santa Barbara truly is the greatest gift. With the wide variety of natural elements, from the coast to the mountains, we are blessed with some of the greatest wonders to touch our earth. Even still, there is a hidden well of spots in Santa Barbara worth visiting this spring. The rainy season this year has set off many of Santa Barbara's creaks, waterfalls, and rivers that have not been flowing this much in years. Based on local reports and personal experience, here are the five best local spots in and around Santa Barbara worth a visit this spring.
#5: Nojoqui Falls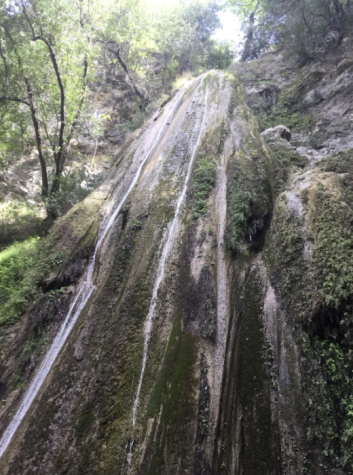 Although slightly out of the way, Nojoqui Falls is a natural wonder for anyone near Santa Barbara to enjoy. Located just off the 101 near Buellton is Nojoqui Falls Park, home of Nojoqui Falls. Nojoqui Falls is a magical spot with a rushing waterfall. The waterfall is just a small walk in from the parking lot on a dirt path, making it a very easy spot to visit. Many choose to get in the waterfall or swim nearby. People picnic around the area, just be sure to please pick up your trash if you choose to do so!
#4: Mission Rope Swing
A spot that has been largely neglected for years has just come alive again this year because of the immense amounts of rain we got. Just past the Santa Barbara Mission, towards our mountains, you will find a small public parking lot connected to a park. Only a short walk down into the creek from the parking lot is a giant swimming hole with a rope swing. Although the water is cold, this spot is still an amazing space to hangout in and enjoy some sun.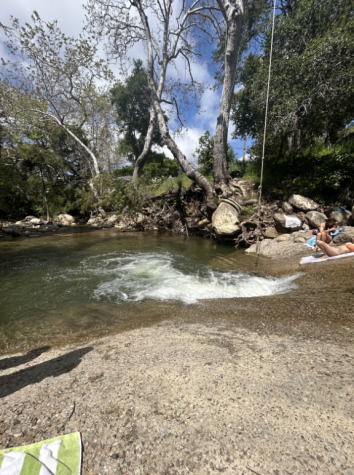 #3: The Playground Trailhead
Many living in Santa Barbara are familiar with "lizard's mouth" and the beautiful rock formations scattering the tops of our mountains, but not many have visited a trailhead just down the road called The Playground. The Playground is usually less crowded and includes a longer walk in, but the privacy of this hike is very appealing. This trailhead opens up to a landscape full of rock formations to climb and is a perfect hike for those seeking an adventure through the rocks. Located along West Camino Cielo is the sneaky little entrance, but once found, this spot is definitely worth returning to. 
#2: Seven Falls Trailhead
Seven Falls is a magical one and a half mile hike to, yep you guessed it, seven waterfalls. They cascade down each other into little pools and have shaped the rock formations around them. Located right off Tunnel Road just past the locked gate begins the trail. This beautiful spot is going crazy this year because of the rain and is known for being especially serene because of the sounds of seven waterfalls crashing around you. This hike is most definitely worth a visit if you have the chance. 
#1: Montecito Hot Springs
Last but certainly not least are the Hot Springs in Montecito. Although they are currently closed because of the excess rain, they are sure to open shortly. This season will be especially beautiful this season and the hot springs are sure to be more full than ever before. Located in the San Padres Forest, these hot springs are actually ruins from the abandoned resort from the 1800's. Just off Hot Springs Road in Montecito is Hot Springs Road Drive where you can park and hike in. Be on the lookout for this spot to open up again because it is sure to be extremely gorgeous this year.
Certainly this year California is more beautiful than ever. A breath of fresh air and some beautiful scenery is a perfect way to get outside and give yourself a clear head this spring and through the end of this semester. 
Leave a Comment
Donate to The King's Page
Your donation will support the student journalists of San Marcos High School. Your contribution will allow us to purchase equipment and cover our annual website hosting costs.